Exclusive Designed &
Made by us in the UK
The bigger brother of our 1.2m high aluminium vegetable cage, this Harrod Slot & Lock® Aluminium Vegetable Cage (1.5m H) provides your vegetables with an additional 30cm of growing height and really opens up your kitchen garden and vegetable plot growing options; in fact, the extra height could even accommodate fruit bushes!
A winning combination of our durable and reusable matt black nylon Harrod Slot & Lock® connectors, tough 16mm diameter aluminium uprights and top rods and 7mm square mesh butterfly netting, designed to keep butterflies out but allow pollinating insects in, provides the cornerstone for the aluminium vegetable cages's success. You'll find the aluminium framework is simple and very quick to assemble, can be taken down in the blink of an eye and takes up little room when storing - and being aluminium, the tubing will not rust. The Slot & Lock connectors simply push onto the 1.2mm gauge aluminium tubing framework and are securely held in place by tightening the stainless steel screws, allowing the cage configuration to be easily changed.
The framework itself comprises strong and corrosion resistant 16mm aluminium tubing which is secured using our Award Winning Harrod Slot & Lock® Connectors. The cages have also been updated to include the Harrod Net Claw Pegs - an innovative peg which is inserted into the ground once and use the tension of the netting to hook and unhook the netting from the claw teeth, saves unpegging and any potential net damage.
All cages up to 3m x 3m are supplied with a fitted net, larger cages are supplied with a netting pack that may be larger than required, but can be trimmed if there is too much excess netting.
Extending your aluminium vegetable cage is simple as well as all the aluminium tubing components, netting, pegs and Slot & Lock connectors are available separately – we've even got Slot & Lock brace kits to give your vegetable cage extra rigidity in windy and exposed locations and in light soil. The Aluminium Vegetable Cage (1.5m H) provides height and stability - vegetable growing heaven!
Please Note:- The Slot & Lock Cages can be modified by cutting the aluminium tubing - if you can't see the perfect size then buy a size larger and cut the tubing to fit. We are unable to offer a bespoke design service for our Slot & Lock Cages.
Aluminium Vegetable Cage Kits stand 1.5m H
Provides plenty of height for growing taller vegetables and even fruit bushes
Framework made from aluminium tubing
16mm diameter tubing
1.2mm wall thickness
1.8m uprights push 30cm into ground
Upright tubing caps provided
1.5m of actual growing height
Tubing held securely together by durable and reusable black nylon Harrod Slot & Lock® connectors
Available in a number of length and width options
Covered with 7mm mesh butterfly netting
Netting keeps out crop-wrecking butterflies but allows smaller pollinating insects through
Assemble and dismantle in minutes
Connectors hold tubing firmly in position - no turning, spinning or falling out
Supplied complete with assembly instructions
Cage kit includes all tubing, connectors, netting and innovative Harrod Net Claw Pegs
All components also available separately
Extending cage or changing configuration simple
Aluminium non-rusting so will last years
Ideal for crop rotation
This product is supplied as a kit for self assembly
Intermediate uprights are only included on cage lengths over 3m
We recommend removing the netting over winter to prevent any potential damage from heavy snow and high winds
If the cage is being situated where it will be exposed to strong winds we strongly advise adding brace kits
N.B. all cages up to 3m x 3m have fitted netting for easier access to beds.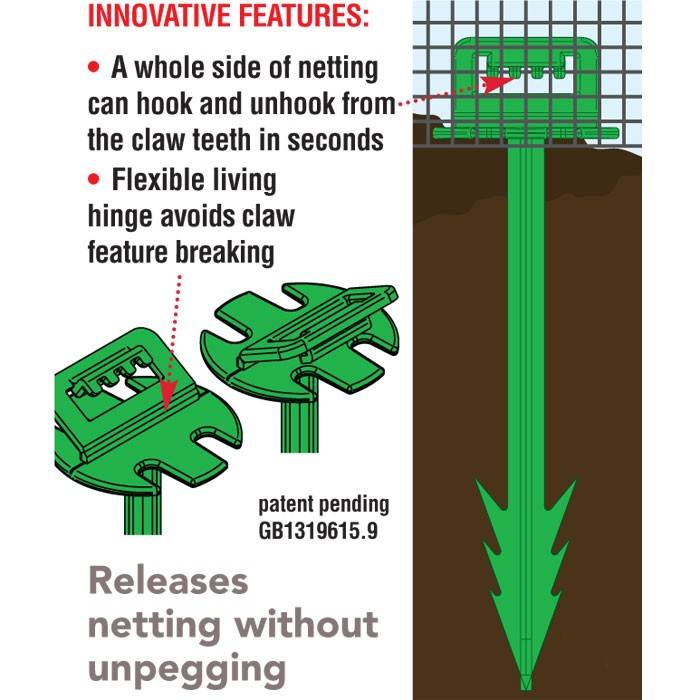 15th August 2019
Bought a 4m x 2m aluminium veg cage. Slots together well, but net isn't made to fit. Shouldn't have work out how to fold or cut the net to shape. I'm not an origami expert
Many thanks for your feedback but unfortunately to make the product cost effective we are unable to have fitted nets for every size of vegetable cage. It should be possible to simply drape the net over the cage and fold any excess at the corners if necessary.
12th July 2019
Order was missing a pole but dealt with swiftly when notified. Excellent product, strong netting and easy construction. Little tip, when screwing the top support poles, it is easier to make the top and secure the screws from the top rather than from underneath. Much easier then you don't have to grovel in the soil looking for screws when you inadvertently drop one. Needed a few tent pegs as there are not enough of the green net holders for my liking.
HARROD SLOT & LOCK® ALUMINIUM VEGETABLE CAGE KITS FREQUENTLY ASKED QUESTIONS
1. Can footplates be used for these cages?
No. The footplates are designed for cages 2m high with 25mm diameter tubing. The uprights on this cage are 16mm diameter and due to the weight of the cage they are not necessary.
2. Can I order extra parts for my fruit cage e.g. spare connector
Yes. All component parts - connectors, tubing, netting and pegs - can be purchased separately as listed on this page or from our catalogue. If you can't find what you are looking for, please contact our Customer Services Team or call them on 0333 400 6400.

We also stock bracing which can be used to add rigidity to the structure, especially in exposed locations and in light soils.
3. If I order a standard cage, but then cut the bars to get exact sizes, does this affect my guarantee?
The aluminium horizontals of these cages are 16mm diameter and can be cut with a hacksaw fairly easily. The aluminium is resistant to corrosion, so as long as the structure is otherwise assembled as per our instructions the warranty is unaffected.

4. Can I order a size that is not advertised on your website?
The components are all listed in the catalogue and online so you can pick and mix to make your own size of structure. Please contact our Customer Services Department or telephone us on 0333 400 6400 for help with this.
What The Press Say
---
Telegraph Gardening
2012-11-10
Tried and Tested - Widgets that work
A Stronger Support - the new Harrod Slot & Lock system has locking screws to hold aluminium tubes firmly in place so you can build sturdy cages to support net covers. Having tried out a kit, first on a blueberry bush and then on winter brassicas. I found the cage quick to assemble, easy to move around raised beds, strong, even when a deer got onto the allotment and turned over the cage the frame remained intact. The optional extra of a slip-on butterfly net cover is a real timesaver, it pulls over the cage and in an instant fits snugly. The Harrod Slot and Lock system is available in a range of sizes
---