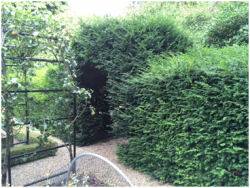 September is the ideal month to prune evergreen hedges and get them neat and tidy before the winter. Hedges trimmed now are unlikely to put on any significant growth before the cold weather hits us, so they will stay looking crisp for the months ahead.
Stephanie's Kitchen Garden is surrounded by a large yew hedge, which helps create a microclimate ideal for growing fruit and veg. During the summer months, it serves as a back drop for all of the lovely plants that it surrounds. Almost unseen, it slowly puts on growth until suddenly, as we start to clear the crops, it is revealed and it becomes apparent how untidy it has become. Once clipped, it will become a structural focus in the garden
providing winter interest and a home to birds and wildlife.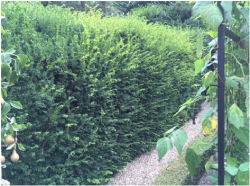 This week will see us out with the ladders, barrows and pruning shears taking on the annual prune. A spot of instant gardening that will transform the garden. Last year, our yew clippings were collected and taken to be used in the manufacture of cancer drugs; making us proud and deeply satisfied. Unfortunately this year, the drug companies don't require as many clippings, so they will be discarded. Hopefully next year, we can donate them once again.
Clipping the hedges around the garden will take up most of our week, but we will also be harvesting, watering and feeding as the sunny, dry autumn weather keeps the harvest going.