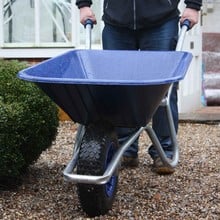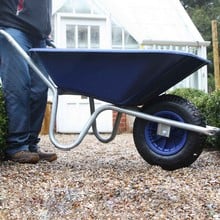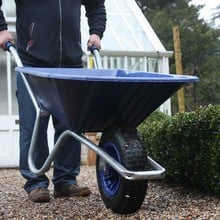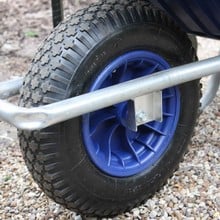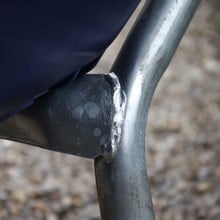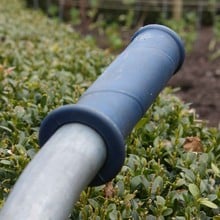 County Compact Clipper Wheelbarrow
£5.95 P&P
Size:
143cm L x 58cm H x 67cm W
The award winning County Compact Clipper Wheelbarrow is the Rolls Royce of the wheelbarrow world and just like this classic car marque, it combines unrivalled style with total reliability.
Read More
Availability: Out of Stock

Unfortunately this item is currently out of stock.
Listed as a Which Best Buy Wheelbarrow - June 2013
The award winning County Compact Clipper Wheelbarrow is the Rolls Royce of the wheelbarrow world and just like this classic car marque, it combines unrivalled style with total reliability - if you want a top quality garden workhorse of a wheelbarrow, then the County Compact Clipper Wheelbarrow is for you!
The County Compact garden barrow spec reads like a prestige car; galvanised zinc-plated chassis for fewer scratches, less rust, and a longer life; 4-ply block-pattern pneumatic tyres improve traction and last longer and wheels with double ball bearings which just roll and roll!

The business end of this garden wheelbarrow is equally as impressive; the tray has a 90 litre capacity and is manufactured from easy-clean, colour-fast polypropylene which is both lightweight and rugged; the front tipping bar is square to help with balance when unloading and the solid steel skids will hold up for years on any surface.

Voted Best Buy in both Which! Gardening (March 2011) and Garden News (October 2010), the County Compact Clipper Wheelbarrow comes in blue and measures 143cm in length overall, is 58cm high to the top of the hand grips and the overall width (outside the hand grips) is 67cm.
County Compact Clipper Wheelbarrow measures 143cm L x 57.5cm H x 67cm W
Handle Height 57.5cm
90 litre tray capacity
Galvanised zinc-plated chassis for incredible durability
Block patterned pneumatic front tyre
Square front tipping bar for extra balance
Solid steel skids cope with any surface
Tray made from easy-clean, colour-fast polypropylene - both lightweight and rugged
Award winning design and construction
Professional grade wheel bracket
Double-bearing wheels
Pneumatic tyre fitted with tube for easy puncture repair
Attractive blue finish
Easy grip handles
Self Assembly Required
Voted 'Best Buy' by both Which! Gardening and Garden News
As used in our own Harrod Horticultural Kitchen Garden
Please note: The front and handle do not slot straight together, they are deliberately designed so that you need to pull them to align them together which requires a bit of force. This tension is what gives the barrow its strength and rigidity.
24th September 2019
Very difficult to assemble but found that supporting the front half of the frame on a small block of wood, then engage the top parts together I could then press down with my foot to engage the bottom halves of each frame to connect.. I find the centre of gravity too far forward and have to be very careful when putting bags of compost etc in so that it does not tip over backwards and in general although easy to use I find its lack of stability a big minus.
Many thanks for your feedback which we greatly appreciate- your comments have been passed onto the supplier for further review
22nd May 2014
I've used cheap wheelbarrows from the big DIY's / poor quality generally - but this County Compact Clipper is in a different league / easy to assemble / no maintenance - built to last!
29th December 2012
This was extremely difficult to put together, nothing lined up. It was almost impossible to fix the body to the frame as there was no way to hold on to the screws to stop them twisting around as you tightened the nuts. There were a lot of very sharp edges on the frame which my husband had to file off. Would be good if it came ready assembled.
What The Press Say
---
Which! Gardening
March 2012
Best Buys
Voted Best Buy Wheelbarrow with 76%
---
Amateur Gardening
17th December 2011
Tried and Tested - Wheelbarrows with Julia Heaton
Build 5* Galvanised zonc-plated, two-piece frame assembled in 10 minutes thanks to clear photo instruction sheet and spanner (supplied). The polypropylene tray is a good thickness and has cross members and strengthening struts. Tray size : 26.5in wide x 35.5 in long, 90ltr capaciy. Features 5* Large 16in pneumatic tyre with inner tube for easy repair. Wheels feature ball bearings and 4-ply double block tyres. Also has a square ended tipping bar and skids to prevent legs from wear and tear. Performance 5* A joy to use over a bumpy course because of the chunky wheel. The long sloping tray was easy to empty and the flat tip bar gave stability and helped direct the load precisely. It had widely spaced, comfortable handles too. Value 4* Excellent handling - built to last. Highly recommended if you use a barrow alot and budget allows.
---