It's time to plant out our onions and garlic in Stephanie's Kitchen Garden. Back at the end of September we sowed the sets into trays and set them onto the greenhouse shelves to start them off. We prefer to sow them to modules initially as the local bird population like to pull them out of the ground when sowed direct into the soil. They have established well and have good root system to keep them anchored into the ground. The soil is still warm enough for them to put on some growth before the cold winter weather arrives.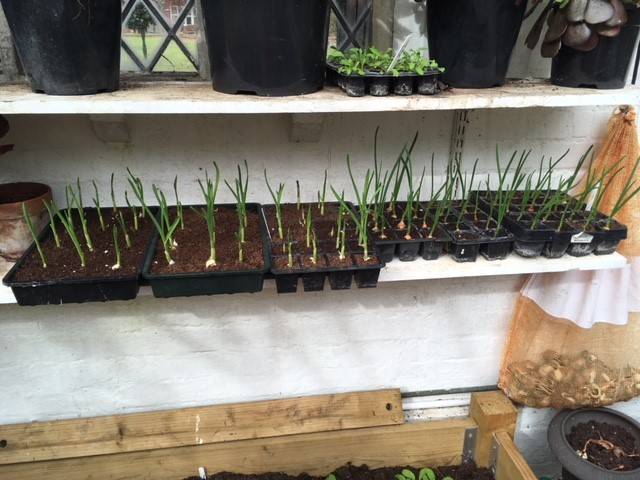 With all the clearing away of summer crops that we have been doing of late, our compost bin is now full with more plant material still to be added. This week we will completely empty the spare compost bay of the mature compost and spread it onto the garden beds. This will allow us the space to turn the full compost bin into the empty one. Turning the compost helps the decomposing process by moving the fresh material to the bottom of the bin where it is hottest. This bin will them be left for the winter whilst we fill the empty bay.
The weather has continued to be dry in our part of the UK so we are watering crops and pots regularly. A good soaking once a week will suffice, unless we have high drying winds which are common at this time of year. High winds can dry out the soil very quickly.
And ofcourse we will be continuing to rake the leaves that are now constantly falling all around the garden.