These hardy and vibrant red morsels are incredibly easy to maintain and should be featured in every home grower's plot. These fast-growing veggies take up very little space and can be planted in amongst the rows of other plants. What's more, you don't even need a garden to grow radishes, they'll happily thrive in containers and window boxes. Their delightful colour adds spice to many dishes and makes them a very desirable garnish.
Did you know? Most of the bitter flavour comes from the peel. If you were to peel it, you would be left with a mild flavour.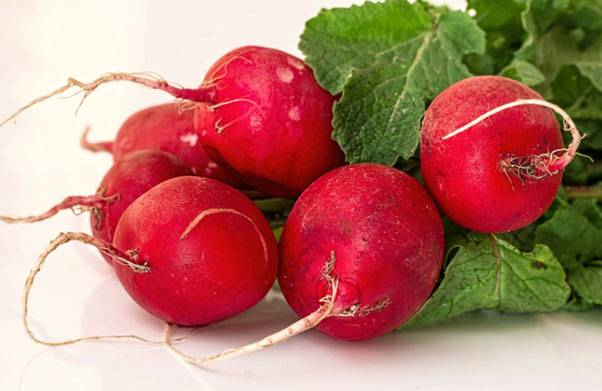 The growing process
Pick your varieties
Radishes come in many sizes, shapes and colours… to help with your decisions, here's our top picks perfect for your home veggie patch:
Rainbow Mixed
With a stunning selection of coloured-skins, this is the perfect variety to brighten up the salad bowl. Expect vibrant roots of purple, red, white and gold with a refreshing, tangy flavour. This quick growing variety can be harvested in as little as 28 days from sowing.
French Breakfast
This popular old variety produces a reliable crop of attractive, red, cylindrical roots with a pronounced white tip. Sowing to harvesting is approx. 4 weeks. Ideal for even the smallest of spaces.
Scarlet Globe AGM
An RHS AGM variety producing bright red, evenly shaped roots with pure white, crisp, moist flesh and mild flavour (if picked young). This is a very popular, quick growing summer radish and is ready to crop in just 20/25 days after sowing.
Redmoon
From Asian breeding, Redmoon is a unique variety with red skin and rose-pink flesh. This colourful radish has a conical shape with a mild, refreshing flavour. It looks particularly great when sliced into salads or used in stir fries. An excellent crop for containers and window boxes.
Sowing
Pick a sunny spot with rich, loose, well-draining soil for your radishes. Sow seeds around ½ inch deep and 1-2 inches apart. Rows should be spaced 3 inches apart. Due to their quick growing time, radishes can be squeezed in between other plants, such as carrots, in the vegetable patch. Just make sure no nearby plants will shade out your radishes as they need lots of sun to prosper.
Radish care advice
Radish plants typically need 1 inch of water per week. Radishes that receive too little water could become woody tasting
You can continue to sow seeds every 10-14 days throughout the growing season for a steady supply of radishes
Usually, radishes grow so quickly that pests are not a problem but they can be attacked by aphids and the maggots of cabbage root fly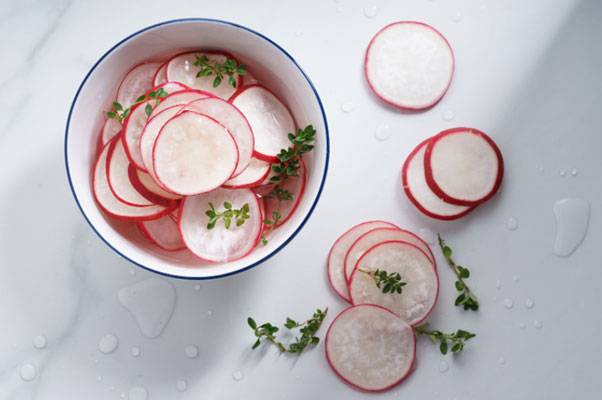 Harvesting
If left in the ground past their maturity, spring radishes will get tough and taste starchy. A good way to tell if they are ready to harvest is to simply pull one from the soil. Another good way to know if they are ready is by looking at the green top above the soil line. If you don't see much green growth, then there's probably not much happening to your little radish root below either. Look for greens that are roughly 6-8 inches tall.
Once harvested, cut off the tops and then thin root tail and wash and dry them thoroughly. Store in the veggie draw of your fridge. They will keep for 1-2 weeks.
Tip: Check your radishes frequently as they mature.
Other uses for your bumper harvest of radishes
This inexpensive and delicious vegetable can be utilised in a multitude of ways… here's our favourite ways to use up any leftovers:
Garlic roasted radishes
Roasting radishes brings out the sweetness that is otherwise masked by the peppery kick. Plus, they are super easy to cook too. Preheat the oven, and in a bowl combine the radishes with oil, dried herbs, salt, and pepper. Toss until the radishes are evenly coated. Spread the radishes in a single layer on a large baking tray. Bake for 20-25 minutes, tossing every 10 minutes. After the first 10 minutes sprinkle over the minced garlic and toss to coat. Return to the oven until radishes are golden brown and easily pierced with a fork.
Spicy pickled radishes
Super simple and super delicious, these pickled radishes taste amazing in burgers, salads and simply on their own. To prepare the radishes, slice off the tops and bottoms and then use a sharp knife to slice them into very thin rounds. This is important, they need to be as thin as you can possibly get them. Pack them into a round jar and add red pepper flakes and mustard seeds. To make the brine, in a small saucepan combine vinegar, water, honey and salt. Bring to a boil, stirring occasionally, then pour the mixture over the radishes. Allow the mixture to cool to room temperature. You can serve the pickles immediately or cover and refrigerate. They will store for several weeks, though they are at their most fresh and crisp for 5 days after pickling.
Raw radishes with chive butter
This flavoured butter tastes divine spread over raw, crunchy radishes. Mix butter and chives in a bowl (enough to coat all of your radishes). Transfer to a small piping bag and fit with an appropriate tip. Pipe the butter onto your radish halves in desired pattern. Devour immediately.
Radish dip
Refreshing, delicious and oh so easy to make. Make in advance and then refrigerate until you're ready to serve. Combine julienned radishes, sour cream, feta, lemon zest and juice, salt, and dill. Serve with toasts, crudites and whole radishes.