Every year for a week in May the Chelsea Royal Hospital grounds are transformed for the spectacular RHS Chelsea Flower Show. Months of planning go into this famous flower show, and it's not just the stunning show gardens that take a lot of preparation, the trade stands also take meticulous planning too.
The Harrod Horticultural stand is no exception, and to maintain our high standards, consistently winning Commendations for our display, the plannning has been underway since the gates closed on the show last year.
Every year we are looking for ways to improve the stand, with new products, better access for customers and not forgetting the all important colour scheme.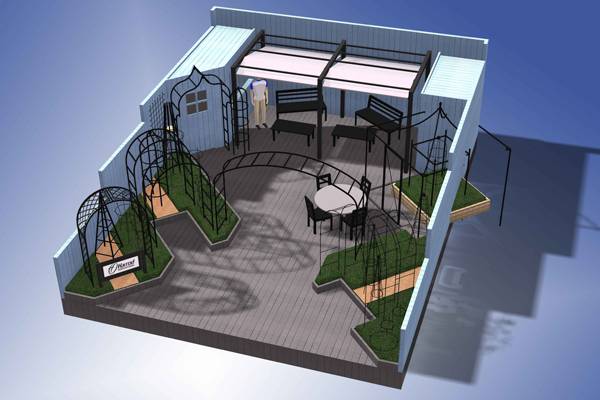 A first glimpse at the design of our stand for this years show, with our new Ellipse Arch taking centre stage, our new door canopies making their debut, contemporary pergola providing some welcome shade along with our popular arches, obelisks and plant supports all on display.
So if you are coming to the Chelsea Flower Show this year, do come along to our stand and see all our UK manufactured products, we might just give you some inspiration for your next gardening project - 363 Royal Hospital Way.
Hope to see you there...