All around the garden new growth is slow to emerge this year. Snowdrops are a good month later than we would normally expect to see them in flower and the daffodils are only just beginning to peek through the soil. In the Kitchen Garden overwintering crops are surviving under their cloches and fleece covers, but showing no sign of new growth.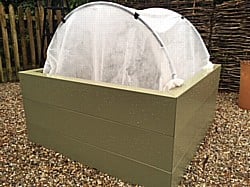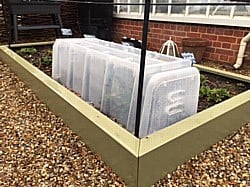 Last year during February we made our first sowing of parsnip seeds direct into the soil; following it up with a further sowing during March, as we have every year. This year however, with the recent extremely cold and wet weather, the soil is not warm or dry enough for us to contemplate sowing so early. This week we are going to cover the soil in some of our raised beds with fleece in an attempt to warm the soil up ready for sowing later in the month or early March, weather permitting. We will also cover the main bed where we will be planting our early potatoes at Easter. Covering the soil will prevent saturation from the rain and being frozen solid by the cold temperatures.
The ground has literally been frozen solid for most of the week, which has denied us a good dig over of the soil. Working on frozen or saturated soil is never a good idea, however we are really keen to turn the soil over to expose bugs and grubs to the birds and frosts. As soon as we get a dry, frost free day, the spade will be out! Inside the fruit cage we are hoeing regularly around the base of our fruit bushes to reveal any pests to the birds that are currently enjoying access to the fruit cage. This will continue until the first signs of flowers on the strawberry plants when the roof net will be swiftly replaced.
Mother Nature is firmly in charge of the garden at the moment, limiting what we can do with the conditions she is creating. Inside the greenhouse is a different matter and it is here that we can cheat a little by creating a warm environment for our overwintering tender plants and new seedlings. It is a sanctuary that we can escape to on the darkest, coldest day and pretend that we have fast forwarded to Spring. Thank goodness for a greenhouse heater and heated propagator – every gardener should have one.