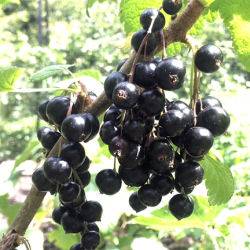 Our blackcurrants are looking black, fat and juicy and about ready for picking. I'll choose a nice sunny morning to head off into the fruit cage armed with a trug and some snips to harvest them before heading back into the kitchen to make some Jam.
This week in Stephanie's Kitchen Garden, we will be pruning our espalier apple trees. This is a job we would normally carry out in August but the warm wet conditions this year have seen the trees put on an enormous amount of new growth and, being a lover of all things tidy, I can bear it no longer. Pruning them early will probably mean a second prune will be needed in September, but it's a price I am willing to pay. Side shoots will pruned back to 3 buds above the basal cluster and extensions to the structural branches will be tied in and pinched out when they reach the end of their supports.
At this time of year, most of my time is spent harvesting, watering and feeding all of the crops in the kitchen garden. And of course weeding, which this year is a particularly time consuming. Warm wet weather and fertile soils leads to lots of weeds popping up around the garden and it so important to keep on top of them when they are small before they take a real hold. It is always best to hoe on a dry sunny day so weeds have less chance to recover.