With autumn not far away now it will soon be the time to pick the bountiful harvest of fruit that you have protected and nourished through the summer months. The question is, "what do you do with all the excess apples?" Why not try your own little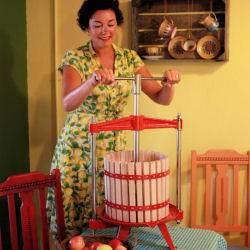 slice of the good life and have a try at crushing and pressing fruit yourself, extracting the juice from fruit is a process steeped rich in history, with the production of apple juice and cider stretching back to Norman times.

Luckily for us things have moved on since then and with a little bit of help from Harrod Horticultural it couldn't be easier.


There is just nothing like freshly pressed apple juice and Cider is one of the easiest fermented beverages to make, as long as you have good equipment to start with.

So, whether you need a 12, 20 or 36 litre fruit press ours are built to last with frames made from steel, and covered in a EU safety standard compliant polyester coating in a stunning bright red finish, beech staves and a seasoned oak wind down pressure plate.
Depending on your taste, you can use any variety of apples when home brewing, historically some types of apples have been grown especially for cider producing. Cider apples have lots of tannin content, which produces a distinctive flavour. Whereas, Garden apples are generally grown for sweetness, flavour and they normally have reasonably low tannin levels.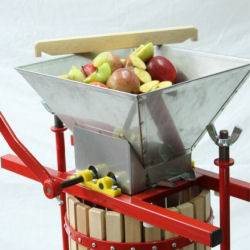 Your Apples don't need to be cored or peeled first but you will find you will get a lot more juice by putting them through a crusher first.


The basic rule of thumb is that you need four times the volume of apples for the volume of cider you wish to produce. So if you fill a 22 litre (5 gallon) bin with apples, you are likely to get around five litres of cider.
If your thinking about making a project for next year then why not consider working from the ground up by installing some stunning supports for your fruit. At Harrod Horticultural we sell Espalier Frames, Step-Over frames, Arches and Pergolas that would look amazing draped in fruit or why not consider a Linked Single Hoop Arch.
And to compliment your fruit press why not choose from our wide selection of apple pickers, baskets, apple racks, drinks dispensers and preserving bottles to serve up this refreshingly fruity sweet drink.