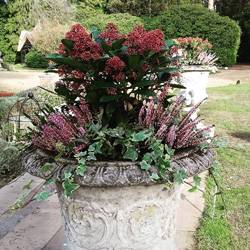 Whilst over half of the country was being hit by gale force winds and rain, here on the East coast we have seen temperatures reaching 17c, with wasps and bluebottles still flying around and even a Red Admiral butterfly flew past me on Tuesday, what strange weather we are having!
Monday saw us emptying a ton bag of wet top soil which had been delivered for different jobs around the garden and for filling the new metal raised bed ready for the asparagus crowns to go into. It was meant to be quite an easy job using the mini tractor and trailer but the tractor decided to suddenly stop working, so it was a long day with the large spade and wheelbarrow, moving the soil.
Tuesday started out with blue skies and lovely warming sun, so it was a day to get the garden pots planted up to provide interest and colour during the coming winter months. Several of the pots were planted with skimmia japonica 'Rubella', pink heather and ivy. Give it a week or so for the plants to settle in and they will certainly provide a welcoming sight on a cold, grey day. There were some white hydrangea paniculate, white heather and ivy left over from the recent photo shoot so these have now been planted up too.
The shallots that were started off in the greenhouse have grown on nicely so these can now be planted outside protected with a mulch to discourage the birds from pulling them out.
As always when I have a few spare minutes there are leaves to be cleared from the paths, borders and the usual crevices that leaves seem to get into, so the wheelbarrow and leaf rakes are on standby.