It has been a month of storms, lots of strong winds and rain but still not as cold as it should be at this time of year. The winds have brought a lot of tree branches down and caused quite a bit of debris throughout the garden, so there has been a lot of tidying up to do. In the kitchen garden it has all been about preparation for the upcoming growing season. Organic chicken manure has been applied to the beds and the bean and pea frames have been put into place.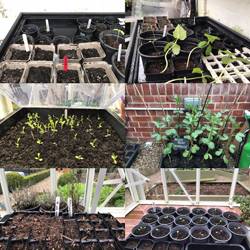 Of course the biggest preparations have been in the greenhouse where we have started seed sowing. So far we have sown Cucumber Passandra, Brussel sprouts groninger and Igor, leeks, broccoli, celeriac, carrot Napoli, aubergine, sweet peppers, tomatoes: golden sunrise, clementine, red pear, san Marzano 2, yellow pear, Costoluto fiorentino, cabbage Westland wells. Some of these have already sprouted and are growing well. The chilli seeds sown back in January have finally decided to sprout. We did find we had to turn the heated propagator up a couple of degrees to give them a bit more encouragement. This does mean however the plants will have to be slowly acclimatised before being moved into the main greenhouse.
We have planted out our main crop onions centurion and sown our spring onions. The broad beans have really gained a lot of height in the last month and they are now really need to be planted out into position, but with more storms forecast this is not the best time for it. We will be watching the weather forecast closely and once these storms have passed we will get them planted out into a raised bed.
This month has seen the last of the winter carrots and Brussel sprouts being harvested, we have also had a small harvest of spinach and sprouting broccoli.
There has been a lot of activity in the fruit cage this month. The autumn raspberries have been moved into a new superior metal raised bed and an autumn raspberry support frame added. THe blueberries have also been moved to a raised bed and planted out in ericaceous compost.
We have tidied the rest of the wild flower garden this month by taking off last years seed heads, they should have already dropped the seed from them. Just giving a little trim and rake to remaining plants and grasses is enough to keep everything growing well and looking its very best.