At last Spring has arrived here in the Kitchen Garden. The sunshine has arrived in force and, despite some chilly nights lingering on, everything is starting to grow. With the first half of April being so cold, the Kitchen Garden is behind on where we would normally expect our vegetables to be at this time of year, but the recent warm weather has given us the chance to start growing in earnest.
One of the biggest jobs of the Spring is to plant the potatoes. After warming the soil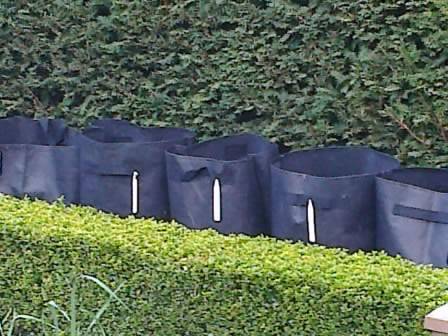 with polythene, we finally managed to get these into the ground in mid April. We have these planted into the ground and into potato bags. As I write this, the first of the green shoots have appeared through the soil.
Following the recent rain and warmer weather, the conditions were ideal for the first application of Nemaslug. This was watered onto the soil following a good rain shower, and will be repeated at six weekly intervals throughout the season. The nematodes will attack the slugs in the soil before they have a chance to start breeding. I have heard that this year should be a bad one for slugs following last year's wet summer, so this is definitely the time to nip your slug population in the bud before they take hold. We will also be applying slug pellets and copper rings to our beds to make doubly certain.
Our greenhouse is now bursting at the seams with vegetables. These have been regularly potted up to keep them healthy while we are waiting to plant them out. Jo has moved as many as possible into the cold frame, which is also full, and is at last now managing to plant some out into the ground and make some room. However, care still needs to be taken as night time frosts are still occuring. Have your fleece at the ready!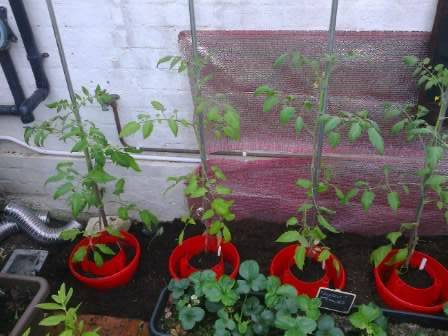 In the greenhouse, tomatoes have been planted into the border with plant halos to aid with their watering. Some have also been planted into Tomato Success Kits ready to go outside when the frosts have passed. Flowers are already forming on our tomato plants, and we have some baby cucumbers appearing as well. So exciting!
Jo is still busy sowing seeds. This month we have sown sweetcorn, cauliflower, courgettes, squash, leeks, carrots, beetroot and beans. Last months parsnips, cabbages and beetroot sown outside are all up and growing away.
Our latest installation in the Kitchen Garden is a new water butt. We've replaced an old one with a bigger one and will be adding more to it in the coming months to increase our water storage. During the coming weeks we will also be installing an irrigation system into the greenhouse to keep all our plants in top condition. I'll let you know next month how we get on.
Our disaster this month is a regular visit by a rabbit. He has destroyed a rhubarb plant, and has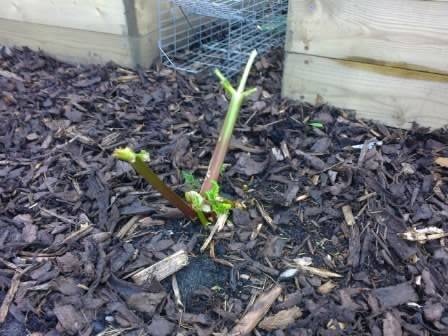 nibbled some onion leaves. Luckily everything else outside is covered by cloches or netting. Our Kitchen Garden is surrounded by rabbit wire fencing, but it is always a good idea to regularly check there are no holes that a rabbit can enter through. We have laid a trap for him and set up the Outdoor Pest Stop device near the rhubarb patch. Just this morning, Jo came out of the potting shed to see him walking bold as brass through the Kitchen Garden and managed to chase him and see where he had entered. He had come under the yew hedge through a weak point in our rabbit wire, which is now being promptly re-wired!
On the subject of pests, I saw my first white butterfly yesterday which was a good reminder to check my butterfly netting ready for planting out my brassicas.
Here are some of the jobs we've got planned for May in Stephanie's Kitchen Garden:
Sow salad leaves and rocket at regular intervals to ensure a continuous crop.
Sow more carrots and beetroot.
Plant our young plants as the weather allows.
Install greenhouse irrigation.
Sow swede.
Earth up potatoes as they grow through the soil.
Feed tomatoes, cucumbers and peppers weekly.
We're always here to offer advice and support. Go to the Ask the Expert section on the website and Email Horticultural Advisor Jo Blackwell with your Kitchen Garden queries or Pest Control expert Gavin Hatt and they'll do their best to help!
We're busy tweeting about all things Harrod Horticultural - what we're doing, special offers, gardening tips and advice and you can always use Twitter or Facebook to get in touch with us as well. With our webteam manning the Tweet decks and Facebook site, you can be sure you'll get the best service we can offer!


Our 116-page 2013 catalogue is out now and it's packed full of gardening ideas, products and solutions to the problems every gardener faces, plus plenty more seasonal ideas to help get the harvest in and keep it fresh!

Happy gardening!