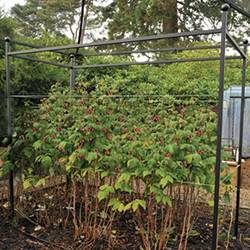 As Autumn raspberry plants get taller and stronger they will now need support from poles or a frame. We have been specializing in fruit protection and growing frames for over 50 years and our exclusive product range is designed and manufactured here in our Suffolk factory.
Originally inspired by a bespoke Harrod design project for one of our customers the autumn raspberry support frame uses our tried and tested high quality components. The frame is made using high quality galvanised steel, powder coated matt black for a long lasting finish and comes complete with discreet black stainless steel fixings.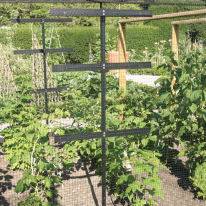 The exclusive T-shaped Raspberry Protection and Support Frame is a multi-use frame that acts as a plant support and protection system for raspberries, broad beans and peas. Available with or without heavy-duty black 20mm diamond mesh anti-bird netting. Each upright is made from heavy-duty galvanised steel with baked on powder coating with a top horizontal bracing bar included to strengthen the structure. The support bars can be easily adjusted to four different heights to cater for your plants as well as more mature, established specimens. Each upright is supplied with 3 horizontal braces and plant support twine that runs through the holes in the bar to support the netting and plants. Self Assembly is required and the protection and support frame is available in two pack sizes - a pack of 2 supports protects an area 3m long x 1m wide x 1.7m high or a pack of 3 supports protects an area 6m long x 1m wide x 1.7m high.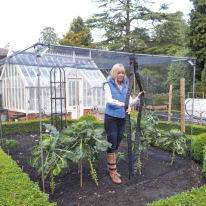 To protect the precious harvest once fruiting begins the exclusive Harrod Slot & Lock® Economy Fruit Cage is the perfect value solution. A superb 1.8m high walk-in fruit cage, especially for fruit and vegetable growers, providing a simple and cost effective way to protect your plants. The fruit cage kit uses strong 16mm diameter aluminium tubing and our exclusive award winning Harrod Slot & Lock® connectors, which are screwed firmly in place to create a sturdy fruit cage structure. The fruit cage kit stands 1.8m high, includes braces for extra rigidity and has a Zip Net Access Strip which can be located anywhere on the netting for a convenient re-sealable entry for easy access to your crops. The fruit cage comes complete with 7mm x 7mm polyethylene side netting and 7mm x 7mm soft mesh butterfly netting for the roof which can easily be removed. The cage stands 1.8m high - uprights insert 20cm/8" into the ground and the Harrod Slot & Lock® Economy Fruit Cage is available in 8 sizes.
The framework of our aluminium fruit cages is manufactured from 25mm diameter, 1.6mm thick aluminium section which is where our claim to be the strongest aluminium fruit cage around originates. This thicker and tougher aluminium tubing - complete with flush fitting connectors - compliments the 16mm x 16mm square mesh extra heavy duty extruded side netting and the heavy duty, 18mm x 18mm diamond mesh anti-bird roof netting to provide an inexpensive but thoroughly dependable way of protecting your fruit bushes and vegetable plants.
And finally don't forget the raspberry beetle traps and monitoring kit in your fruit cage for all encompassing raspberry protection!