This week in Stephanie's Kitchen Garden we are bracing ourselves for the Beast from the East weather system that is expected to hit us in the next few days. As we are situated just a few miles from the East coast, the biting winds will hit us hard and peg back the temperatures. Over-wintering crops outside have been protected with cloches and fleece throughout the winter and we have double-checked that they are securely pegged down into the soil.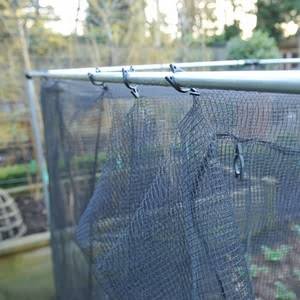 There is the talk of snow arriving with the arctic blast and it is a few years now since we had more than an icing sugar dusting. Last time we had significant snow, it came without warning which meant that we hadn't removed the roof net from our vegetable cage. The weight of the snow bent some of the structure and it was following this that our Stormproof Cage was born. Now we don't have to worry about being caught out or having to remove a roof net and expose our precious broccoli plants to hungry pigeons. If significant snowfall hits the garden, the net will simply fall onto the crops and leave the frame intact. One of my favourite of the Harrod inventions.
This week we have been making the most of drier weather to carry on digging in the main Kitchen Garden beds. We were particularly keen to get this done before the extreme cold weather arrives, as the hard frosts will help to break down the soil that has been turned over. The icy weather will also kill off any pests that we have exposed by digging them to the surface. In the ornamental gardens, we have completed our annual mulching regime and this will keep any new shoots that have been emerging from the soil snug and safe from hard frosty weather.
We love feeding the birds in Stephanie's Kitchen Garden and will make doubly sure that the bird feeders are kept topped up while the extreme cold weather is with us. This will be particularly important if we have snow as our feathered friends will find it hard to find food elsewhere.
And when all our plants and wildlife are happy and safe, we will make sure the gardeners keep warm too! We have our winter gloves to keep our hands snug and snow shovels that always warm us up when we have needed to use them in the past. And of course, a heated greenhouse to retreat to when the cold winds prove too harsh to bear……..