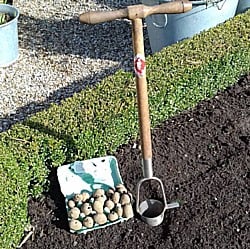 Easter is traditionally the time to plant potatoes and this weekend we will be making the most of the double bank holiday and the long light evenings to get ours into the ground. I had thought to delay it a little following the recent cold start to spring and the current chilly temperatures, however today I watched the local farmers putting their seed potatoes into the ground in the fields near our kitchen garden. If conditions are good enough for the farmers, they are definitely good enough for us. The ground where our potatoes are to be planted has been covered with black polythene for the past week to warm the soil and we will keep it covered for a couple more weeks after the potatoes are in the ground. For many years I planted my potatoes using a hand trowel, but in recent years have converted to the use of a bulb planter. It is so very easy to use and makes light work of the task.
Inside the greenhouse it is time to sow some of the more tender kitchen garden crops. We will be sowing courgettes, cucumbers and squash into small pots which will be placed in the heated propagator. We have just taken delivery of some fibre pots which we will use to sow these into. Like many gardeners we are committed to reducing the amount of plastic that we currently use in the garden and will be trialling some different environmentally friendly pots as an alternative. We will let you know how we get on.
We will also be planting out our brassicas this week. They have been hardening off in the cold frame for a few weeks now and are a good size. We really need the room in the cold frame for other plants so it is time for them to go into their final planting places. The vegetable cage has been put up ready for them. They will be planted with collars to prevent cabbage root fly and lime was added to the soil earlier in the year to defend against clubroot. We garden on acid soil and have had clubroot once before so always add lime before planting. Our broad beans and peas are also ready for planting out and will be going into the ground this week. The garden is starting the transition from brown to green and it is a joy to watch.