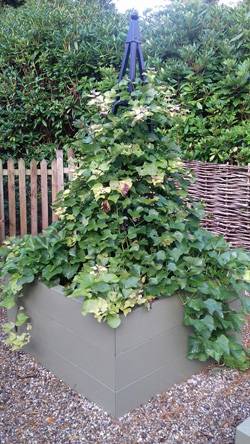 The clocks are going back this weekend leaving us with less working daylight hours and the first air frost has chilled the garden. Our newly planted winter crops are snuggled under fleece and cloches and our tender plants have already been moved into the greenhouse where the heater is keeping them safe from the cold nights ahead.
This week we will be putting up our bubble wrap insulation in the greenhouse. In previous years we have created a bubblewrap tent within the greenhouse, covering only one side allowing the other half to benefit from cleansing cold temperatures. This year our greenhouse is bursting with plants from the kitchen garden and from the wider ornamental gardens, which means we will need to insulate the whole structure. This will help the greenhouse to run more economically as the heater will not need to work quite so hard to keep it frost free.
Outside in the garden, it is time to harvest our favourite summer crop; the sweet potatoes that have been rapidly climbing up the steel pyramid obelisk in our metal raised bed. In the last two years, we have harvested these in late September or early October as early frosts have turned the foliage the tell-tale yellow that signals that it is time to dig up the tubers. This year the plants have remained green and thriving right up until the end of October, but the recent cold nights have nipped them and we dare not leave them any longer. It is one of my favourite harvests of the year and I have my fingers crossed for a bumper crop. The tubers will be left in a warm dry place for their skins to harden and cure before being stored in a paper sack in the larder.
Hopefully the winds will drop this week, giving us a welcome reprieve from leaf raking for a few days……