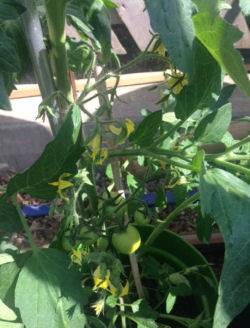 This week In Stephanie's Kitchen Garden we will be harvesting our blackcurrants in the fruit cage. This is such a low maintenance crop, with the bushes needing very little attention through the year. We usually harvest two big trug fulls of fruit from our 3 plants and use it to make delicious juice and coulis.
Our crops are enjoying the current heatwave, and next week we will be continuing to water them to make sure they don't suffer in the extreme heat. Our irrigation is on timers to water the beds at night when the temperatures are slightly lower, in order to avoid evaporation. We are certainly noticing a surge in growth since the warm weather arrived.
The harvest is continuing in earnest and next week we will be enjoyin broccoli, spinach, salad leaves, tomatoes, cucumbers, tayberries, raspberries, blueberries, peas and mange tout. Quite a feast!
New from the staff greenhouse at Harrod HQ:
We have 4 raised beds in the staff garden as well as lots of pots and a raised bed table to grow in. We have a greenhouse which is currently under cover with greenhouse shading. When we were all in there yesterday it was hot hot hot!
We have blackfly on the broad beans! Disaster so we have been busy spraying with Insect killer to try to save our crops.