A highly effective Insect Killer Spray made from nature's own quick acting insecticide pyrethrum, this spray will tackle Raspberry beetle, Flea beetle and now at last the Red Lily beetle - all organically of course!

Use the Insect Killer Spray indoors or outdoors on all fruit, vegetable or ornamental plants at the first sign of pest presence for early control of aphids (blackfly and greenfly), caterpillars, whitefly, ants and fruit flies, along with the beetles listed above. Insect Killer Spray is supplied in a 1 litre spray bottle and does not require diluting or mixing - just spray and go!
Insect Killer Spray is a highly effective garden pest spray
Supplied in a 1 litre bottle
Ready to use formulation
Will tackle Raspberry beetle, Flea beetle and Red Lily beetle
Also effective against aphids (blackfly and greenfly), caterpillars, whitefly, ants and fruit flies
Can be used both indoors and outdoors
Use on fruit, vegetables or ornamental plants
Spray directly onto plants
Kills on contact
Apply to both upper and lower leaf surfaces
Spray when adults and larvae are present
Do not spray on open blooms
Repeat treatments if necessary
Effective against aphids (blackfly and greenfly), caterpillars, whitefly, ants and fruit flies and the beetles listed above
17th August 2012
found this item very good got rid of the green flys off our chilli plant we have and have not come back would recommened to others.
30th April 2012
Excellent product, used once on all my affected lillies, it has eradicated the red lillie beetles. Excellent product
23rd August 2011
I had a serious problem with white fly on my mint and honeysuckle and so wrote to Harrodhorticultural for advice. I was a bit dubious that they recommended one of their own products. Anyway, I was delighted that the spray worked a treat on my mint and all the white fly are gone. My honeysuckle didn't react to well to the spray and started to drop a lot of leaves but picked up a few weeks later. Thank you, a solution at last.

Our guide to the problems Leaf Beetles can cause in the garden...
Red Lily Beetle


Bright red beetles that have black heads and are about 6-7mm long. In the spring reddish brown eggs appear on the underside of leaves, which develop into reddish brown grubs, which often cover themselves in black excrement to ward off predators. The adults are active from March/April until the autumn and are usually found on lilies and fritillaries. Most of the damage is done by the Lily larvae, which strip plant foliage and then attack the flower buds. Damage increases as the summer goes on.
Flea Beetle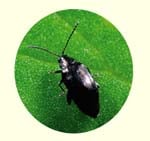 The damage from this pest, that is present from April-May, is often seen before the beetles. These small beetles are shiny black in colour, sometimes with a yellow stripe on their wing case. When disturbed the beetles can be seen jumping from the plants. They attack vegetable plants including cabbage, radish, swede and turnip. Some beetles will also attack flowering plants like wallflowers, stocks and aubrietias. Seedlings are especially vulnerable and damage appears as small holes in the leaves.



Rosemary Leaf Beetle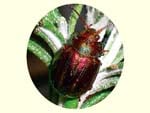 This is quite a recent pest addition to the UK with the adults and larvae feeding on the leaves and shoots of rosemary, lavender, sage and thyme. The adult beetles appear in late spring and are metallic green with purple stripes on their wing cases. They mate in the summer, laying eggs that then develop into larvae. The larvae can be identified by their grey-white colour with dark stripes
on their bodies and they have a resemblance to slugs.
Natural Choice Treatments
Keeping the three species of leaf beetles above off crops with fleece or insect netting is an option or if you are too late there are some safe sprays that can be sprayed onto edible crops to kill the adult beetles; Savona fatty acid and Protector Natural Insect Killing spray.