Work is continuing as normal in the kitchen garden despite the coronavirus. We do have the benefit of being quite isolated here and now is certainly a good time to be out in the garden and growing more of your own food.
This week saw the broad beans being planted out into their final positions, these are looking very nice this year and are already in flower.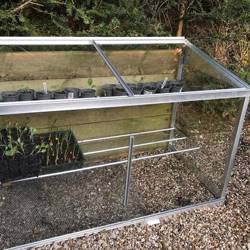 Things are getting busy in the greenhouse. The cucumbers have grown too big for the propagators so these have been potted on and are growing well in sheeps wool compost. The lettuce has also had a growth spurt and we have added another tier to the Vitopod propagator. All the tomatoes plants have outgrown their seed trays and have been potted on again. These have also been planted in sheeps wool compost it really does make a difference to the growth rate and health of the plant. We have done the first sowing of peas this week; Kelvedon wonder and sugar pea Norli. These have been done in root trainers in the greenhouse. We do have birds, mice and squirrels all looking for food now so they are far safer in the greenhouse under cover until they get established. Of course, all these plants will need to be acclimatised so we have added a new lean-to cold frame into the kitchen garden. This should give us plenty of space for this year's plants until they are ready to be planted out.
The spring cabbages are coming along nicely and we are now giving them a weekly feed of Maxi crop organic seaweed plant food and you can really see the difference after each feed they seem to get bigger and better.
The potato bed is now ready for this year's crop which we will start planting out very soon. Preparation was slightly delayed as we were waiting to harvest the sprouting broccoli and kale. Unfortunately these did not do so well this year, it may have been due to the milder winter. We may have to look at different varieties that do better in the milder areas.