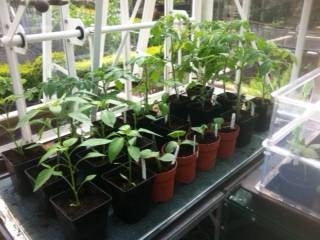 It has been a busy week in the kitchen garden. Because of the lock down one of the gardeners who works mainly in the kitchen garden is now being furloughed and Louise is taking over most of the gardening jobs. We do hope Heidy will be back with us soon.
There has been a lot going on in the greenhouse Potting vegetables into larger pots, tomatoes plants into their final position in the tomato grow pot towers, cucumbers onto staging and seedlings where possible moved to pots and trays.
The cold frame is crammed full with cauliflower and cabbage plants. There are also peas, leeks and sweet pea plants. They will remain there until the weather starts to get warmer. In the kitchen garden there is some signs of growing but this week has been very cold with frosts virtually every night, hopefully the warm weather that is arriving this weekend will last a bit longer.
In the main gardens it has been time to get the various beds hoed and weeded. Best to keep on top of the weeding now in case we have rain and warm weather and then the weeds will grow in no time. The lawns are being mowed regularly and are looking very good considering the wet winter we have had. The daffodils have flowered early this year so there won't be many of those around at Easter but we will have a lovely show of tulips instead.