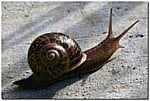 Here at Stephanie's Kitchen Garden this week we will be starting the war on slugs and snails. According to recent press reports, this year is predicted to be a bad one when it comes to our slimy enemies, so we will be taking steps to ensure they don't get the upper hand in our garden.
Jo has been monitoring the soil temperatures in our beds and it looks like this week they will be warm enough to apply our first dose of nematode Nemaslug. This process will be repeated at 6 weekly intervals throughout the growing season. We have also stocked up on organic slug pellets to protect our new young seedlings from snails.
Last year our cold frame was a haven for hungry slugs and snails, so this week we will be applying copper tape around the outside to stop them from making their way in. We will also be applying the tape to the pots of vulnerable plants such as our sea kale which is now a year old.
Other jobs will include potting on our tomato plants which are growing rapidly away. These will need to come out of the heated propagator to make room for new sowings so we will be placing them on a heated mat to keep them happy.
This week we will make further sowings of all our tomato varieties to extend the season. We will also begin sowing cucumbers and courgettes.