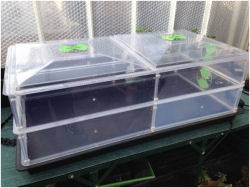 Here at Stephanie's Kitchen Garden this week the sowing season will begin for 2015.
The heated propagator and growlight have been cleaned and assembled and are ready for the first sowings of the year. We will begin with aubergines, tomatoes, peppers, chillies, celery and celeriac. These will be sown in small batches and successional sowings will be carried out during February.
The growlight is on a timer and will extend the normal daylight hours to ensure the seedlings get maximum light conditions to keep healthy.
The propagator is placed in the bubble wrapped section of the greenhouse which is heated. This will help keep the little plants warm and snug through the remaining cold months.
All of our seed trays have been cleaned to protect our seedlings from overwintering bugs that may cause them harm. We use sheep's wool compost to grow our plants in, which provides the nutrients and drainage they need to thrive.
This week we will be harvesting leeks and parsnips.