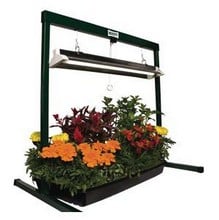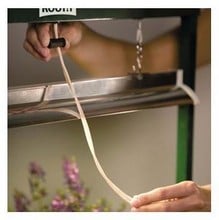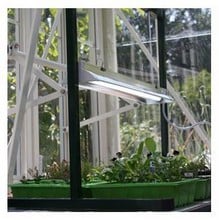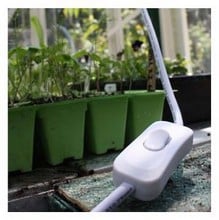 The ROOT!T Grow Light System allows you to overcome one of the biggest hurdles in plant propagation and early/late season growth - a lack of quality daylight.

You'll stop greeting dull mornings with a resigned sigh as your greenhouse plants will be illuminated by the astonishingly efficient, high output ROOT!T T5 full daylight spectrum bulb, designed to provide young plants and seedlings with essential light. Each daylight bulb is cool running, economic to run, has a 20,000 hour life and produces 20% more light intensity than standard fluorescent grow lights.

The bulbs are supported in a simple to assemble and sturdy, powder coated steel frame and heavy duty cords are used to adjust the height of the ROOT!T bulb unit as the plants grow beneath. ROOT!T Grow Light System is available as a 2ft model, and features a generous 2m long power cord, independent on/off switch and can be easily moved around the greenhouse or conservatory.

ROOT!T Grow Light System is ideal if you're looking to get a head start in the vegetable or ornamental flower growing stakes, improve the success rate and vigour of your seedlings and grow ridiculously healthy plants!
ROOT!T Grow Light System available as 2ft model.
Covers an area measuring 66.5cm L x 46cm W x 63.5cm H
57.5cm reflector
Grow light kit lights 2 standard seed trays
Ideal for raising healthy seedlings out of season
Allows you to start propagating and growing early in the season
Increase the quality and quantity of plants you produce
Simple to assemble powder coated steel frame
Height of bulb unit fully adjustable - hanging cords lock into position
Small ROOT!T Heat Mat fits under 2ft Grow Light
Plants illuminated by high output full daylight spectrum bulb
Bulbs are 24 watt/230 volt rated and provide 6400K full daylight spectrum
Provide 20% more light intensity than standard fluorescent grow lights
Cool running and cheap to run
20,000 hour life
5000 initial lumens output
2m long power cord
independent on/off switch
Easy to move around greenhouse or conservatory
12 months guarantee
Full instructions supplied
13th May 2013
I originally wanted the larger version of this but it seems to have been discontinued so I settled on the small 24watt version. It comes in a long box and is very easy to assemble with the minimum of tools. Ive rigged mine up with a timer to give 16 hours a day and so far have started off lots of herbs in pots and other veggy seeds. Its now May and sunlight is stronger than the light so I usually move stuff into the green house once they have started. Earlier in the season it was useful for getting early veg off to a good start. A heated propagator is a good accompanyment. I gave 4 stars for performance because of the low power.
9th March 2012
Economical to run at 54W. The larger version fits over the top of a double length Vitopod propagator. The smaller version fits over a single length Vitopod. Illumination is good and I have had no problems with scorching of seedlings. I have been raising seedlings since middle of January. The lights should be run in conjunction with a timer switch so that 16 hours of daylight can be simulated.
What The Press Say
---
Grow Your Own
December 2013
On Test - Indoor Growing
Offering a large amount of artificial daylight, the lighting strip is well constructed and has been coupled with a very well made frame that takes moments to assemble. For me the highlight was a simple toggle that allows you to adjust the height of the light as your plants grow. The supporting feet to the frame are wide, so you need to find a permanent space for it to reside.
---