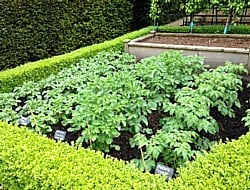 This week In Stephanie's Kitchen Garden we will be planting out the remaining tender vegetables currently taking shelter in our cold frame. Courgettes and squash will be planted out into the last remaining places in the garden. The garden will then be full with only small spaces for salads to be squeezed in.
Our French and runner beans, planted out in the late spring, are slowly beginning to recover from the cold but are still looking a little sickly. Our new sowings are now a good size and are ready to be planted out and this week we will be replacing some of the older plants on the bean frame to get the crops off to a better start.
Also this week we will be continuing to clip the box hedges surrounding the main beds. Due to wet weather this was delayed last week so we still have a lot of work to do. The wet weather has brought out lots of snails from their hiding places, but the slug population seems to be thin on the ground so far. The Nemaslug we have been applying to the beds this year is working and this week it will be time for the next application to be made to the soil.
The big harvest is now well under way in Stephanie's Kitchen Garden and this week we will be harvesting our first cucumber and tomatoes. We will also be picking rhubarb, asparagus, broad beans, spinach, watercress, salads and peas.
.