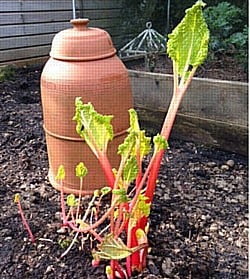 Here at Stephanie's Kitchen Garden this week we will be sowing our sweetcorn, courgettes, squash, runner beans and French beans in the greenhouse. We will also be sowing more salads and peas to ensure a succession of crops.
Our cold frame is now bursting at the seams with peas, brassicas, spinach and salads all hardening off before being planted outside. These will be planted out into our raised beds this week and the celery and celeriac will take their place in the cold frame.
The weather here over Easter has been cold and cloudy. Whilst the rest of the UK has been enjoying balmy temperatures, they have only just reached the far coast of East Anglia. The temptation is to plant out all our tender crops and get them growing, however the nights can still catch us out at this time of the year. So we will be keeping a very close eye on the weather forecast ready to dash out with the fleece when needed.
Now that the soil temperatures have warmed up, the weeds have started to grow, so we will begin our regular hoeing of the beds this week to keep them at bay.
This week will see our first harvest of forced rhubarb from Stephanie's Kitchen Garden. It looks amazing and will no doubt taste as good as it looks!