Summer is almost upon us and the garden is revelling in the warm temperatures and long daylight hours. Unfortunately, the weeds seem to be reveling in it too and are popping up all over the garden literally growing overnight. It's important to keep on top of them while they are small and before they have the chance to set seed. In some parts of the garden, where plants are closely packed, a handfork, trug and a kneeler are my weapons of choice, but in the kitchen garden or our herb parterre where the are bigger spaces to clear, my favourite tool is the royal dutch hoe. It makes light work of small weeds that can be left to die on the soil in the sun. Carried out regularly, hoeing will make sure the weeds are kept at bay and it's a lot easier on the back than hand-weeding!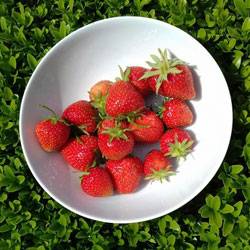 In the kitchen garden the summer harvest is well underway. We have started picking strawberries which are deliciously juicy eaten fresh from the plant warmed by the sun. Occasionally a bowlful manages to make it to the kitchen! Our sugarsnap peas are cropping well, as is our early sprouting broccoli. The spinach is still providing us with lots of lush leaves but is showing signs of bolting where we planted it in full sun in late winter. A second sowing has been planted out in a shadier spot where it will be happier over the summer and less likely to bolt.
In recent years we have suffered from rust in our garlic crop which usually attacks during late June. This year we decided to try and trick the rust by growing an extra early variety that crops during May and June. The idea was that we would be harvesting it before rust becomes a problem. The leaves of the garlic are now brown indicating it is ready to be lifted. This week we will dig it up and see how that new variety has fared. We will let you know how we get on.
We are always looking for new ways to grow crops to get the best out of them and this week we will be starting a new way of growing tomatoes that we haven't tried before: cages. These are quite popular in warmer countries where tomatoes are grown outside. We haven't grown many tomatoes outside due to the problems with blight but given how dry our last few summers have been, we thought we would give it a go. Our plant supports and small obelisks lend themselves perfectly to providing a cage support to tomato plants. The plants will be grown as bushes rather than the traditional greenhouse cordons. We will keep you updated on how it goes.