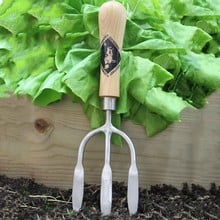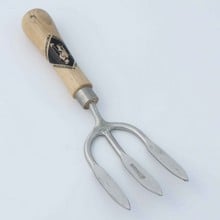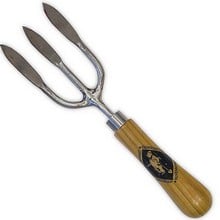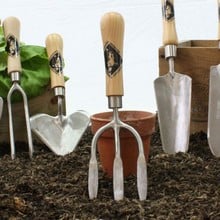 Sneeboer Hand Fork
£4.95 P&P
This little Sneeboer Hand Fork is one of those rare tools that you'll never be able to manage without once you've used one; the three high quality steel tines are tough enough to dig and cultivate soils of all types and conditions.
Read More
3 Working
day despatch
This little Sneeboer Hand Fork is one of those rare tools that you'll never be able to manage without once you've used one; the three high quality steel tines are tough enough to dig and cultivate soils of all types and conditions.
The 12.5cm long tines of the Sneeboer hand fork are hand-forged in the finest stainless steel before being individually shaped, polished and sharpened by hand for a unique finish.
A fine quality cherrywood handle makes the hand fork easy and comfortable to use - trust us, you won't want to put it down - and with so many uses in the garden, you might find the Sneeboer hand fork is the only implement accompanying you on trips around your kitchen garden, ornamental borders and vegetable plots.
Sneeboer Hand Fork has 3 high quality steel tines
Blade measures 12.5cm L
Overall length is 28.5cm
Ideal for all manner of garden tasks
Breaks up soil
Perfect cultivator
Spot weeding a speciality
Steelwork carries a 10 year guarantee
Wooden handle carries a 1 year guarantee
22nd July 2014
Compact but sturdy. I particularly like the shape of the tines which improves function and adds strength.
16th March 2013
I was very impressed with the speed of delivery of my fork. It is very sturdy and works very well in the garden. I am extremely pleased with the item. It fits in my hand very comfortably something that I appreciate as I suffer from arthritis in my hands.
What The Press Say
---
Garden Answers
January 2014
Our Pick of garden hand tools
---
Grow Your Own
November 2011
Green Gardener
Featured Product
---