September has been hot in Stephanie's Kitchen Gardenas and for most of the month the heatwave continued, with temperatures only returning to normal within the last week. The garden has loved the warm weather and sun loving crops such as sweet potatoes and squashes have thrived on it. We are finally starting to see some rain but it is still not enough, if you dig a few inches down in the soil it is still rock hard and in desperate need of water. Fortunately what rain we have had has filled up the water butts so the remaining greenhouse crops can benefit from rain water. In the main Kitchen Garden the irrigation has been busy and I have spent most of the month with a watering can in my hand.
T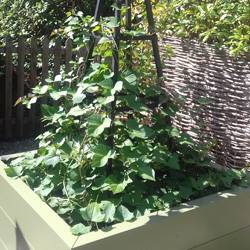 his month has seen seen a good harvest, the heat has certainly helped the runner beans to grow, the French beans have had another flourish climbing the bean and pea frames and providing a late glut of small tasty beans. But now with October looming around the corner and the start of some cooler weather these will be finishing soon so the foliage will be cut down and is destined for the compost bin and the roots left in the ground to help fix nitrogen in the soil.

The bramley apples have produced a nice quantity of fruit this year considering the high temperature and lack of rain but the same cannot be said for the eating apples. What did grow unfortunately were attacked by large swarms of wasps so one of the trees has given me barely a dozen fruit. I will give the bramleys another week before seeing if they are ready yet to be harvested. The autumn raspberries were quite poor this year too, only a couple of handfuls were produced and they were quite small and again it was a race between man and wasp to pick them at their best.
As the outside tomatoes started to show signs that they were slowing down and starting to die, I removed all the vines of green tomatoes that looked healthy and took them into the greenhouse where they were left to ripen. The greenhouse tomatoes have stopped producing now too so these have been removed and taken to the compost bin. As the outside lettuce has also finished now I will be growing some more in the greenhouse over the winter; these will have the added bonus of the greenhouse heater at night.
As there has been gale force winds ripping across the country recently, one of the most important jobs at this time of year is keeping the garden tidy. There are always fallen leaves to be cleared in autumn, and these will be raked up and put into the leaf composter to make lovely rich leaf mold for use as a soil conditioner next year.
Dead leaves left on the vegetable beds create an ideal overwintering place for pests, which is another good reason to clear them away. October is also the last month for watering nemaslug nematodes into the soil around any growing fruit and vegetables, meaning there will also be fewer pests left to hibernate over winter and cause us damage next year.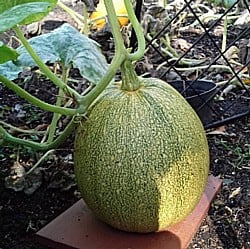 During this month and into October the cauliflower, savoy and Brussel sprouts will still need attention. Last week I sprayed them with a Natural Power Bug Spray, this has added plant nutrients, to help green up leaves after pest attack plus leaf shine to clean off sticky honeydew created by pests.
The Sprouts need to be staked into the ground to prevent windrock and if necessary mound the earth around them. Windrock and lack of nutrients is the most common cause of "blown" sprouts when the buttons become loose rather than tight and firm.
As the winter squashes are quite large now they have been lifted from the bare soil and onto something more solid and dry to encourage them to grow on and to prevent them from rotting. The 'Cream of the Crop' squash that we have harvested has been left in the greenhouse for a few days for the skins to harden before storage.



Jobs for the month of October:
If you haven't done so already, apply nemaslug to your garden
If you have fig trees, you may need to protect them with a fleece if they are in a cold, exposed area, remove any fruitlets larger than a pea as they won't ripen next year
Continue to clear the garden of leaves and branches and add leaves to your leaf composter
Harvest apples as they become ripe and store
Move tender plants into the greenhouse
Plant out spring cabbages
Protect fruit trees from the winter moth females laying their eggs
We're always here to offer help and support just email horticultural advisor Louise with your queries and she'll do her best to help.
We're busy tweeting about all things Harrod Horticultural – what we're doing, special offers, gardening tips and advice and you can always use Twitter or Facebook to get in touch with us as well.
Our catalogue is packed full of gardening ideas and products to solve the problems every gardener faces, plus plenty more seasonal ideas for harvesting, storage and preserving.