As I write this, the sun is beating down on yet another hot and sunny day. August has been a month of beautiful summer weather, but dare I say we are praying for some rain in the Harrod Kitchen Garden. The crops are revelling in the lovely warm conditions, but our water butts are now empty and we are using mains water for all our watering. A good rainfall would soon have the water butts full again...
During August I have been away on holiday. As all you gardeners will know, this is always an anxious time as, despite having able volunteers on hand to look after things whilst you are away, it is never the same as caring for your plants yourself. It was a nervous moment when I returned but all was well. The Kitchen Garden was well prepared for my absence as it has soaker hoses and drip irrigation installed in the beds. I have also recently installed a timer so that when I was away much of the watering took care of itself. I timed this clever gadget to come on late in the evening so that the water was able to make its way to the roots of the plants without being evaporated by the hot summer sun.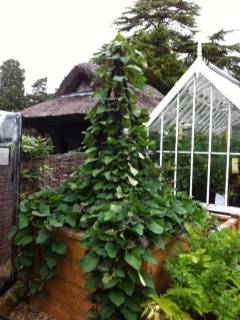 One crop that has really been enjoying this weather in particular is sweet pototoes. We have grown ours in a raised bed and trained it up an obelisk this year. They are looking amazing and everyone who visits the Kitchen Garden comments on them. I only hope that the potatoes below the ground are as impressive as the foliage above it!
2013 has been a really good year for fruit so far in our Kitchen Garden. The summer raspberries put on a bountiful harvest, but have now finished so Jo has pruned them this month to prepare them for next year. She has cut out all the old stems that fruited this year down to the ground and then tied in the new stems which will carry next year's crop onto the raspberry support. These will have a good mulch of farmyard manure later in the year to keep them happy. The strawberries have also finished cropping, so Jo has taken off the bird netting, tidied the plants up and given them a good feed. She has also potted up some runners to make new plants. Strawberry plants only usually crop well for three years, so we like to replace some each year to make sure our plants are constantly refreshed.
The espalier apple trees are also carrying a good harvest of lovely apples which I am really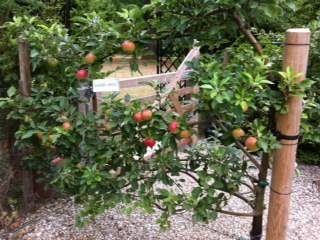 looking forward to picking and eating. However a new pest has arrived in the Kitchen Garden this month which may decide to take a fancy to these - wasps. Our blackberry crop is currently under attack and we have lost figs to them in previous years. We have hung wasp traps amongst these crops to help prevent them from destroying all our hard work.
Early in the month, when we had finally finished harvesting our delicious new potatoes, the ground was dug over and the leeks were planted out in neat, straight rows, like little soldiers. Last Winter we left a few leeks and allowed them to flower. These have looked amazing and have been crawling with bees for weeks. If you can bear to leave some of your leeks uneaten this winter, I would recommend doing the same.
Also this month we have planted out Calabrese, Butternut Squash, Cauliflower and Cucumbers. We have been very busy sowing seeds for the Autumn and Winter including Borlotti Beans, Spinach, Asparagus Lettuce, Carrots, Kohl Rabi, Pak Choi, Turnips, Leaf Beet, Mustard Greens and Spring Cabbage. We have also sown some Sea Kale seeds which is something we haven't grown before. This is a plant that takes two years to reach maturity, but can then be harvested for around seven years. A very useful plant for helping to fill the hungry gap. I'll let you know how we get on with it.
Back in July, we cut some comfrey leaves and added to our Organic Plant Food Maker. Six weeks on and this has become a lovely nutritious tea for our vegetable plants. We have mixed it with water (1 part feed to 9 parts water) and have been giving our plants a good dose of it. A little goes a long way and it really gives the crops a welcome boost.
Here are some of the jobs we've got planned for September in Stephanie's Kitchen Garden:
Continue feeding and watering to keep plants healthy.
Continue to harvest and store fruit and vegetables.
Keep on top of weeds by hoeing on dry sunny days.
Maintain a Pest Watch to catch any infestations early.
Sow green manures in beds that will remain empty over the Winter.
Keep the garden tidy by quickly clearing plant debris to prevent pests and diseases.
Start to harvest main crop potatoes.
Stock up on Winter frost protection to ensure it is ready for when the frosts arrive.
We're always here to offer advice and support. Go to the Ask the Expert section on the website and Email Horticultural Advisor Jo Blackwell with your Kitchen Garden queries or Pest Control expert Gavin Hatt and they'll do their best to help!
We're busy tweeting about all things Harrod Horticultural - what we're doing, special offers, gardening tips and advice and you can always use Twitter or Facebook to get in touch with us as well. With our webteam manning the Tweet decks and Facebook site, you can be sure you'll get the best service we can offer!


Our 116-page 2013 catalogue is out now and it's packed full of gardening ideas, products and solutions to the problems every gardener faces, plus plenty more seasonal ideas to help get the harvest in and keep it fresh!

Happy gardening!