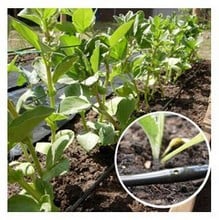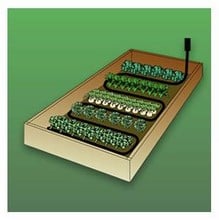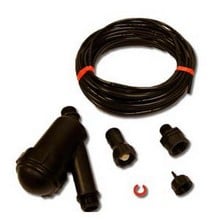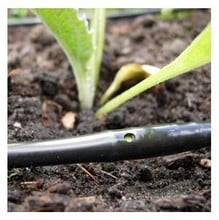 Raised Bed Irrigation Kit
£5.95 P&P
This 'click & drip' Raised Bed Irrigation Kit will efficiently irrigate all types of raised bed with the minimum of fuss and it comes complete with all the fixtures and fittings you'll need - just add a tap, 'click' the components together and your raised bed soil will stay 'drip'-fed moist and well watered all year round
Read More
Simple and quick to install, this extremely effective raised bed watering system relies on a 4mm diameter, 15m length of totally flexible drip irrigation pipe which can be laid to suit your planting and contains irrigation points at 30cm intervals - 50 holes per 15 metres - that each release approximately 1 litre of water per hour.
As the pipe lays on the soil, the water is delivered right where it's needed and evaporation is thwarted; not only that, but a 4mm diameter 5m length of blank pipe helps transfer the water from the tap to the bed with no wasted drips and in-line filtration throughout the irrigation pipe also prevents blockage from any debris and lime scale, so you can safely hide the pipe under soil whilst it is also pressure regulated to ensure an even flow.
15m kit will water approximately 5sqm - ideal for our 6ft x 6ft, 6ft x 8ft and 8ft x 8ft raised beds
Raised Bed Irrigation Kit delivers water through a flexible 4mm diameter, 15m long pre-drilled irrigation pipe
Kit comes with all neccessary fixtures and fittings
5m of non-drip blanking pipe also included
Designed for raised bed watering but can be used on ornamental beds and borders
Ideal for allotment and vegetable patch use
Simple and quick to install - just click and drip!
Run from a mains tap - contains a 'male' hozelock ¾" tap connector
Inline filter prevents blockage from debris or limescale
Irrigation pipe pre-drilled with watering points at 30cm intervals - 50 holes per 15 metres
Delivers approximately 1 litre of water per hour from each irrigation outlet
Lay pipe in loops allowing 30cm between each
Fits an 8ft x 6ft raised bed
Full instructions included
Raised Bed Irrigation Kit Contents List
¾" male hozelock tap connector
50cm section of standard diameter hosepipe including 'female' hozelock connectors at each end
In-line Filter Unit
5m of 4mm diameter blank distribution pipe
15m of 4mm diameter flexible irrigation pipe
Top Tip! Use the above components in the order listed to set-up your Raised Bed Irrigation Kit starting from the mains tap.
Be the first to write a review for this product.