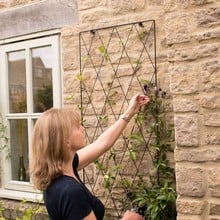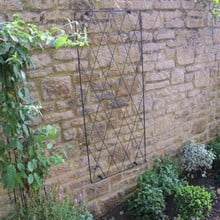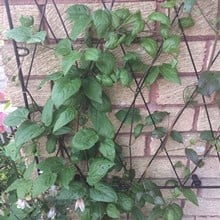 Standard Lattice Wall Trellis Panel x 2
£5.95 P&P
Size:
50cm Wide x 1.15m High each
The Harrod Standard Lattice Wall Trellis Panels use 3mm thick steel wire lattice that is zinc plated and powder coated matt black to be maintenance free and weather resistant and comes with a 10 year structural guarantee.
Read More
10 Year
Structural
Guarantee
Exclusive Designed &
Made by us in the UK
The Standard Wire Trellis Panels are supplied in a set of 2 and have been designed to support climbing plants such as roses or clematis to create stunning floral displays on garden walls, creating a beautiful link between house and garden.
The welded mesh wire panels are manufactured from zinc plated steel wire which is high temperature powder coated in a matt black finish. The durability of the trellis gives it many advantages over wooden trellis, with no maintenance required and comes with a 10 year structural guarantee.
Supplied as a set of 2 panels, simply fix as many panels as you need side-by-side to achieve your floral wall display. The panels fix easily to the wall using the brackets and fixings supplied. The brackets hold the trellis 25mm from the wall to encourage air flow and also allow plenty of room between the wire trellis panel and the wall to allow the plants to freely twine around the lattice.
Designed and Manufactured by us in the UK
10 year structural guarantee
Supplied as a set of 2 panels
Each trellis panel measures 49cm/1ft 7" Wide x 1.15m/3ft 9" High
3mm thick steel wire lattice
Zinc plated steel rod
High temperature powder coated for long life
Maintenance free welded mesh panel
Easy to secure to garden walls with brackets & fixings supplied
Brackets keep trellis 25mm from wall
Allows air to circulate - reducing humidity
Room for plants to freely twine around panel
Ideal for Climbers and Evergreen Climbers particularly rambling roses, clematis, hedera, vitis, campsis, trachelospermum and actinidia
16th July 2019
We absolutely love this product, looks so smart on our wall, perfect size as well for the small space we had.
17th April 2018
Excellent workmanship on the product, easily fitted and as previously experienced with other Harrod products, expect it to be good value for money
16th October 2017
I used 3 Trellis Panels to replace old wooden trellises I had taken down as we have just completed pointing work on the house. delivery was very fast and was "What it said on the can" Great quality and complete with all needed to attach to wall. Great that it had spacers that facilitated the trellis standing off the wall a short distance. Just think the trellis is a little pricey. Regards, Gordon