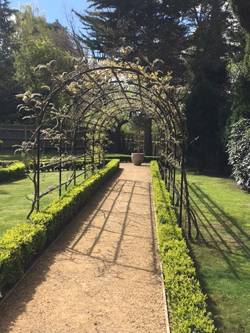 As we head into May, in our part of the world we would normally expect to be planting out some of our tender crops such as beans, courgettes and squash plants. However, we are in the middle of a very cold snap and planting out now would be a disaster for these tender plants. Consequently this week we will keep them protected in the greenhouse and to make sure they are kept in the peak of health, we will pot them on into larger pots to make sure they keep growing well ready for when they finally make it out into the garden.
Outside, our potatoes have started poking their heads out of the soil. Cold frosty nights could nip the new foliage so we will be out with the draw hoe to earth them up. This will protect the potatoes from the frosts and give the roots and tubers more room to grow away from the light.
The recent cold weather has also slowed the germination of seeds sown outdoors and there is currently no sign of any carrots or salads sown outside in recent weeks. This week we will sow additional batches of these in trays in the greenhouse as a back-up to fill any gaps outside. We harvest lots of salads and rocket in Stephanie's Kitchen Garden so we like to keep plenty of baby plants growing to pop in the gaps that harvesting creates.
The wisteria plants around the garden are dripping in flower buds and promising a stunning display in the weeks to come. This week we plan to carefully clean the pergola that the plants are trained over to make sure the black frame creates a perfect foil to show off the purple flowers to their full capacity. We clean all our frames over the winter months, but the resident algae and birds like to ruin our good work at every opportunity. The black powder coated frame of the pergola cleans up beautifully with just a bucket of warm soapy water; a labour of love that will be well worth it when the flowers open.