At last we have reached the end of February and the Spring is about to begin. After the hard work of the winter, it's time for the growing to really start. Inside the greenhouse this week, we will carrying out one of my favourite jobs of the gardening year; pricking out seedlings. Our aubergines, chillies, tomatoes, celery and celeriac, all started off in the heated propagator in January and early February, have survived the dark and cold days of winter and thrived in their snug home. They are now ready to be tranferred to individual pots to be grown on. For me, the potting bench on a sunny day with the radio on and trays of little plants to be pricked out is gardening heaven. I can't wait.
Outside, the manure that we had delivered a couple of weeks ago has been spread on the beds where it is needed. This week we will begin digging it into the soil to prepare the beds for planting. Last week I spotted the first tractors on the local fields as the farmers begin tilling the earth and this is always my signal that it is time to start digging. This is a job best done a little at a time with regular breaks. There is no hurry as the beds won't be planted out for another month at least, so we wil be taking our time to avoid any aches and pains!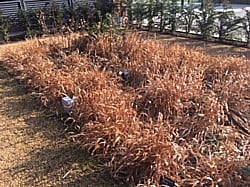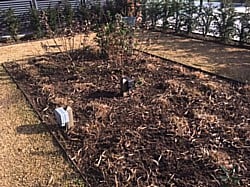 In the wider garden we have been busy cutting back ornamental grasses and perennials that were left for winter seed heads and we will continue this in the coming week. After cutting back, perennials that have grown a little too large are divided and replanted. Finally they are mulched with our special mix of leaf mould and manure. There are tulip bulbs emerging from the soil in great numbers and we have to work carefully to make sure they are not damaged.
This week we will be giving our fruit trees and bushes their final winter wash before applying fresh glue bands. These will hopefully make sure the trees are kept bug and pest free for the growing season. The buds are already beginning to swell promising us a lovely display of blossom later on.