It has been a month of taking out the old and putting in the new.
The summer crops have now finished and we have harvested the last runner bean, tomato, pepper, celery, blackberry, sweetcorn, squash, chilli, French bean and aubergine. All the plants have now been composted and the ground cleared ready for digging over.

The Greenhouse has had a good tidy and is being washed down this week, it will have a few plants overwintering in it this year so they should be nice and cosy in the colder months.

We have prepared our fruit trees for the cold weather. Firstly we gave them a winter wash and then put the fruit tree protection covers on. We also applied a good layer of strulch around the bottom of all the trees, this will help preserve water during the summer next year and help keep the weeds at bay.

The fruit bushes have had their annual prune. We have redcurrants, blackcurrants and white currants all growing in the kitchen garden. We have applied some natural grower "natural soil conditioner" around the base of the bushes. We haven't used this product before so it will be interesting to see the results next year. The summer raspberries have had a very light prune this year as they haven't got a lot of growth on them. We have also given these a feed of natural grower "soil conditioner" in the hope that they will improve. All the old wood has been cut out of the blackberries and we have lots of new growth this year so hoping for a bumper crop in 2020.
We grow our blueberries in large pots so we add a nice new fresh layer of ericaceous compost twice a year to keep them growing well and fed. This has now been done and will be repeated again in the spring. We had a good crop of blueberries this year, it seems they like this bi-annual top up of the compost.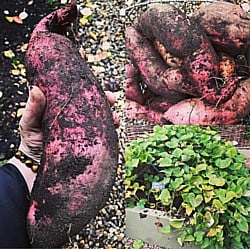 We have had a good harvest of sweet potatoes this month, with some real whoppers! We did grow them slightly differently this year by letting the vines ramble over the A frame rather than trying to train them up supports. I also harvested them much later than has been done previously this has clearly worked and we will be repeating this next year.

But the preparation for next year's crops doesn't stop there. We have sown next year's sweet peas in the cold frame and they are already sprouting up nicely so we should have some beautiful fragrance in the kitchen garden next year.

I have also sown next year's broad beans and have tried sowing these two different ways this year. One batch has been sown in root trainers in the cold frame, we are treating these as an insurance policy, and the other batch will be sown directly in the ground outside. This direct sowing does tend to give stronger more healthy plants in the spring, but if we do get any really cold weather spells these could kill them off, but if that does happen we still have the second batch in the cold frame.

This month has also seen the garlic, shallots and spring cabbages being planted out. These have all been planted in raised beds and covered with winter fleece to protect them from frosts as well as deterring birds and stopping squirrels disturbing them.

The Barcelona cauliflowers seeds have also been sown and these should give a lovely early crop, spending winter in the greenhouse ready to be planted out in March.

The relentless job of clearing leaves from the garden has continued this month and will continue for some time yet, but we should have some lovely leaf mulch next year.