Winter has certainly arrived in the kitchen garden this month, it has been cold, wet and very windy.
The trees are losing their leaves slowly this year so there has been an awful lot of leaf blowing and collection and looking at the trees there is still going to be a lot more to do. But we will have lots of leaf mulch next year to use throughout the garden.
Planning for what we are to grow to grow next year is continuing, we have put together a seed list all ready to order everything we need at the beginning of the growing season this way nothing gets missed from our vegetable plant collection and everything goes in on time.
Of course, there are still some crops growing in the kitchen garden. We have planted white shallots that are now sprouting, they have had the winter fleece removed as the squirrels seem to have stopped hiding their nuts and are leaving the shallots un-disturbed. The garlic is also sprouting and has had the fleece removed.
Our carrots are growing well and will so be due for another thinning out, they are growing nice and straight with no forking it was well worth sieving the soil, although very time consuming it has made a big difference to the quality of the crop.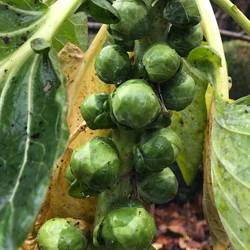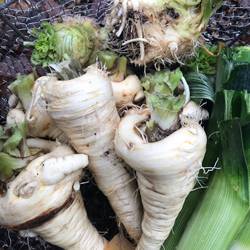 We have been able to harvest a few winter vegetables this month more spinach, leeks, celeriac and the first of the parsnips these have been of good size but unfortunately they have forked a bit. This really does show the benefits of sieving the soil to remove debris and stones for root vegetables.
Our Brussels sprouts are looking nice and will be ready for the Christmas dinner table. We have had to add a few extra stakes to support them as they are now getting very heavy.
We have decided to grow red shallots next year unlike their white counter parts these aren't planted out till early next year so they have been laid out in the greenhouse in plenty of light to stop them from sprouting.
In the rest of the garden it has been a busy time as we have replaced a lot of our roses that had become tired. It has also been a month of tidying and jet washing to stop the moss from getting established and the newly laid lawn has had its last cut for the season.