With March signalling the arrival of spring, I had high expectations for the weather. However, mother nature had other ideas. Aside from three bright, warm days the rest of the month was cold. The conditions worsened as we moved into April, with snow, hail, rain and extreme winds. Though things appear to be brightening up, which is great news for us gardeners who have a whole heap of planting to complete.
While the weather was cold and windy, some time was spent clearing the pathways of twigs, branches and leaves. Not such a fun task for us, but great news for our compost. We've been adding collected leaves to a wire compost bin since the Autumn, waiting for them to break down into a nutrient-rich leaf mulch. This will eventually be used as a soil enhancer across the gardens.
As March arrived, it was time to feed the Azaleas and Camellias with an ericaceous feed. This strong concentrated feed encourages the strong, healthy growth of all acid loving plants. We apply this from March to September as soon as buds and leaves start to grow, then again after the first flowering. Continuing with the fertiliser theme, we also applied TopBuxus Health Mix to the box hedging. We're hoping this will make the hedging stronger and noticeably greener.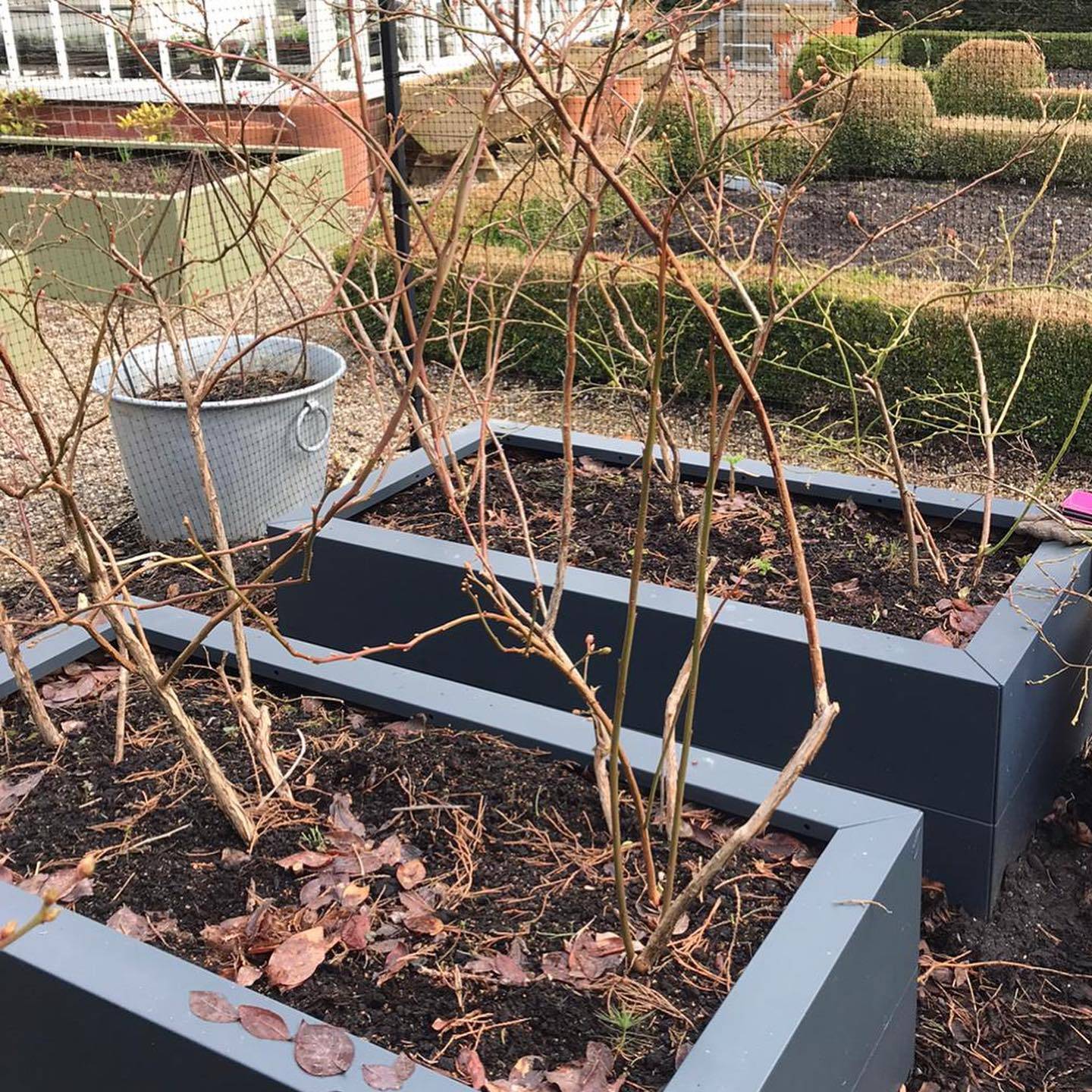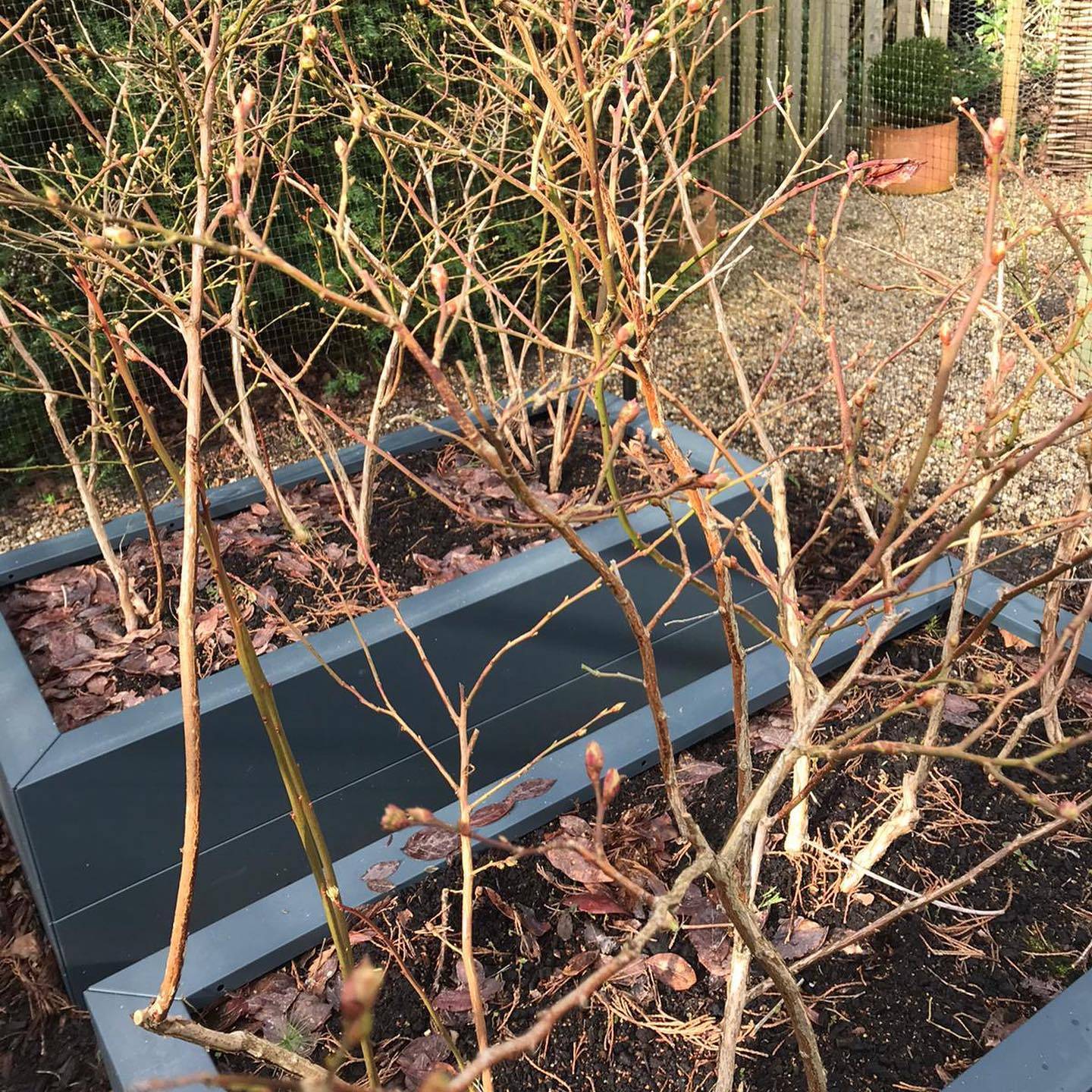 Further jobs throughout March included pruning the blueberries in their metal raised beds. Removing any dead, damaged or diseased branches first, then pruning out 2-3 old branches from the base and opening up the middle. Without pruning, plants can become overgrown masses of weak, leggy growth with small fruit. Elsewhere, we've been hoeing and weeding flower borders. Getting on top of the weeds now stops them growing profusely once temperatures begin increasing.
In the greenhouse, more seeds have been sown: green courgettes, various squashes, leeks, sprouts, peas and most recently sweetcorn and climbing French beans. Meanwhile, the tomatoes, cucumbers, aubergines, chilli and sweet peppers have grown so incredibly well they've now been repotted into their 'summer pots'. As a rule, a plant ready for repotting should slide out with the soil in one piece.
As we moved into April, the potatoes were finally planted. One variety, Colleen (first early), was late going in but the weather was just too cold. These high yielding potatoes should be ready to harvest in June/July. Other varieties this year are: Charlotte – popular salad variety that tastes great when boiled; Maris Peer (second early) – popular, versatile potato with a superb flavour; Cara – maincrop tuber with a floury white flesh perfect for baking and Sunset (a main crop) – deep red-skinned allrounder ideal for boiling, steaming, baking and mashing.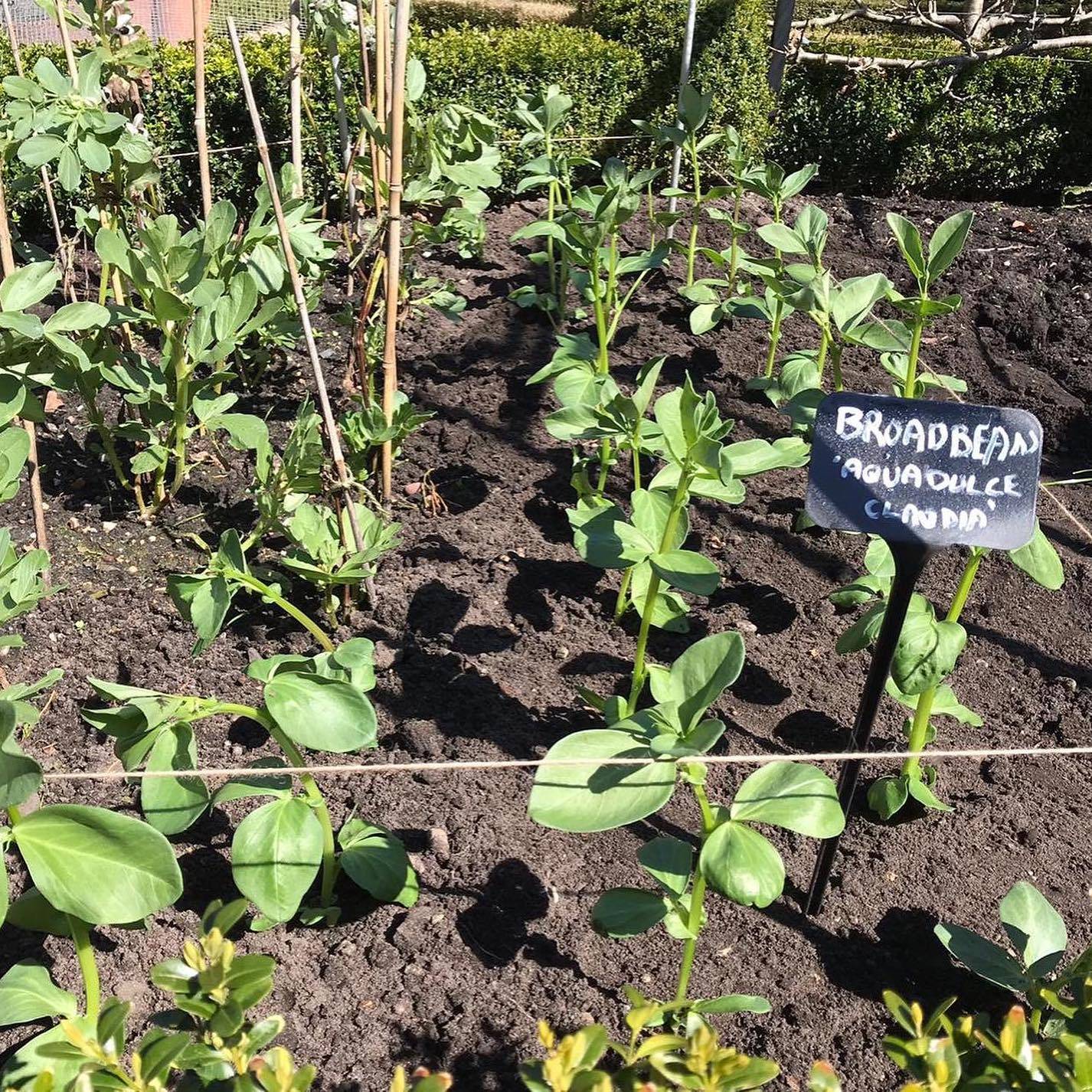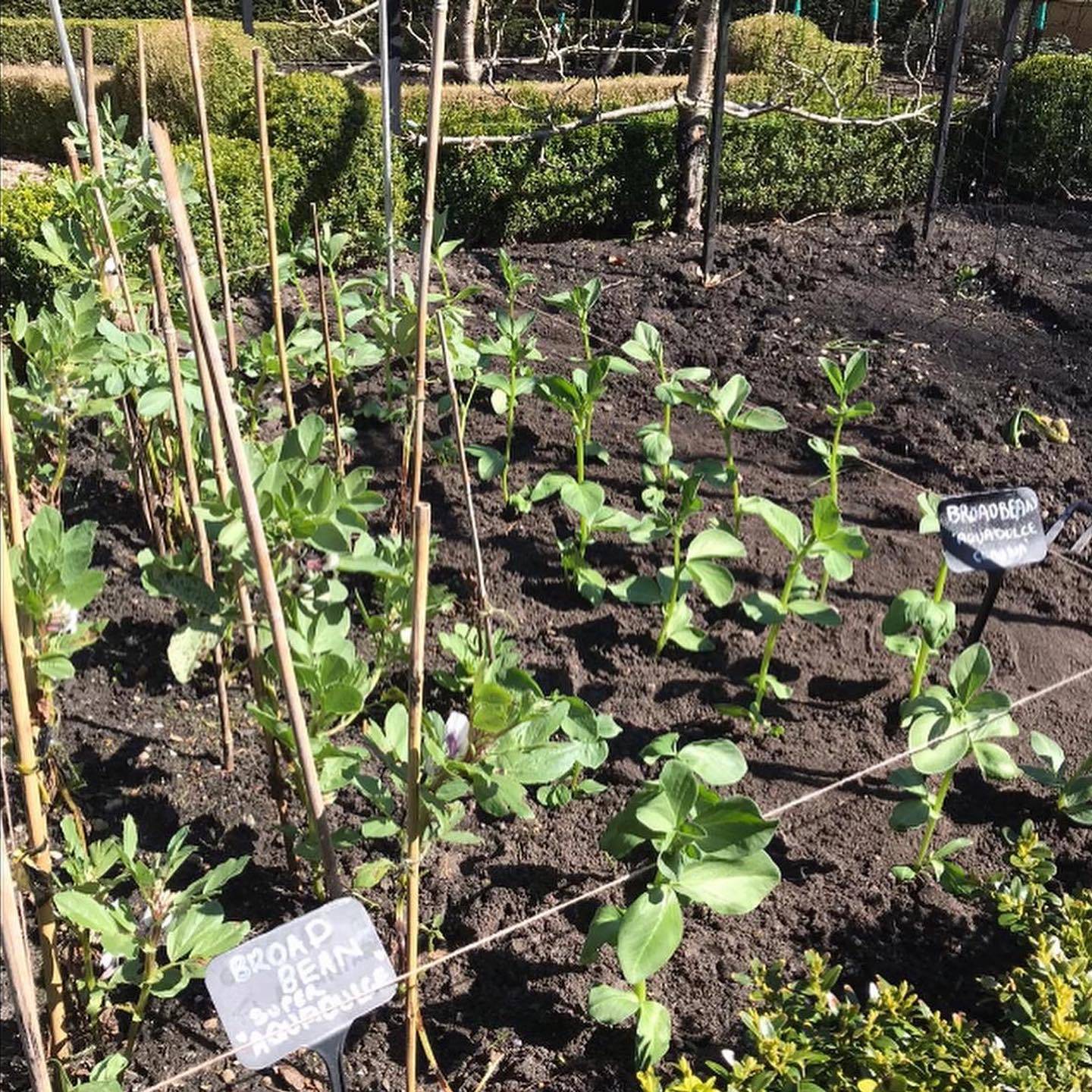 As the weather stayed dry in mid-April, we managed to get the brassica cage built and the vegetable bed dug over for the final time. Lime was applied to the bed a few months prior, which helps with reducing potential club root. This fungal infection typically infects brassicas, such as sprouts, cabbage, cauliflower, turnip and swede, leading to swollen, distorted roots and stunted growth.
Most recently, I have started to apply bark chippings to the flower borders. Applying chipping to borders acts as a mulch, keeping weeds down, while retaining moisture in the ground. This is needed as there hasn't been much rainfall in the past couple of weeks.
With signs that Spring has well and truly sprung and warmer weather is on the horizon, here are the jobs we plan to continue with throughout the rest of April:
Sow hardy annuals, herbs and wild flower seed outdoors
Prune fig trees
Continue to protect fruit blossom from late frosts
Remember to keep weeds under control
Feed hungry shrubs and roses
Not forgetting May's list of jobs:
Earth up potatoes when green tips start to surface
Regularly hoe to keep weeds under control
Stay safe and happy gardening!