Let's talk about runner beans…
Runner beans have long been a favourite among gardeners and no veggie patch is complete without a delicious crop of these quintessential delights. These productive growers are among the easiest and most rewarding vegetables to grow. Once they start producing, runner beans can continue gracing dinner plates well into autumn. Plus, with their ornamental, colourful flowers and heart-shaped leaves, they look just as good as they taste.
Did you know? Runner beans were brought to the British Isles in the 17th Century by John Tradescant, the gardener to King Charles I. They were originally grown as a decorative plant in Britain, until the pods were rediscovered to be edible.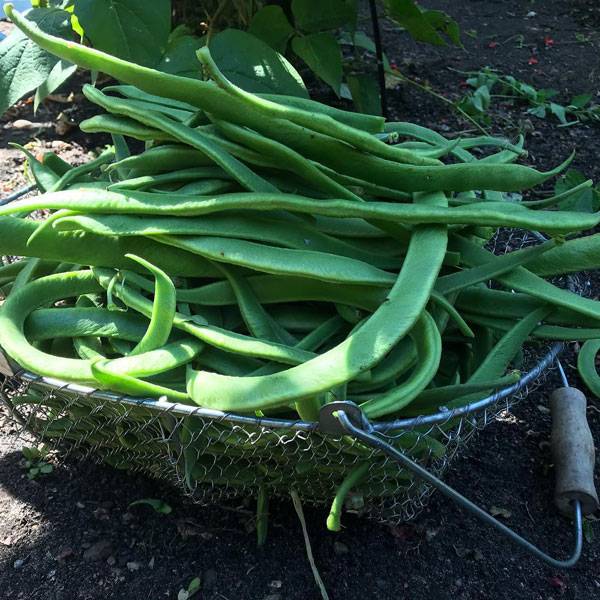 The growing process
Pick your varieties
No vegetable patch or garden should be without the runner bean. Not only do they taste fantastic on a Sunday dinner, but they also produce beautiful plants. Here are our top variety picks:
Moonlight
This magnificent, self-pollinating runner bean will give you a guaranteed bumper crop of extra smooth, stringless yet very fleshy bean pods.
Painted Lady
Widely considered one of the best flavoured beans available, this old girl produces a dazzling array of red and white flowers and masses of long, sweet-tasting beans all summer long.
Wisley Magic
A red flowered RHS AGM variety producing long, smooth, slender pods that easily reach 35cm. They have a low fibre content and a superior flavour.
Enorma
A reliable favourite among gardeners, this delicious variety produces huge yields of enormous, smooth, slender pods of up to 50cm in length.
Sowing
For best results, sow runner beans indoors, ideally in a greenhouse, from mid-April and plant out in late May/early June. Typically, they are ready to plant out after about 3 weeks. Begin to harden off your plants gradually in late May. Alternatively, they can be sown directly outdoors from June, when the soil has warmed to an average of 12°C and there is no longer a risk of frost.
Once ready, plant in double rows 40cm apart or up a wigwam/bean frame. When runners reach the top of the supports/frame, pinch out the tops. This will encourage the plant to send out more shoots and beans below. Slugs adore runner beans, so keep an eye on your crops and protect with cloches if need be.
Runner bean care advice
Beans will twine automatically around their supports, but you may need to tie the young seedlings to the support at first.


Runner beans like plenty of water especially when they begin to flower and form young beans.


Mulch around beans to help keep moisture in the soil when the conditions are dry.


Runners do best in a warm, sheltered spot, which also encourages pollinating insects.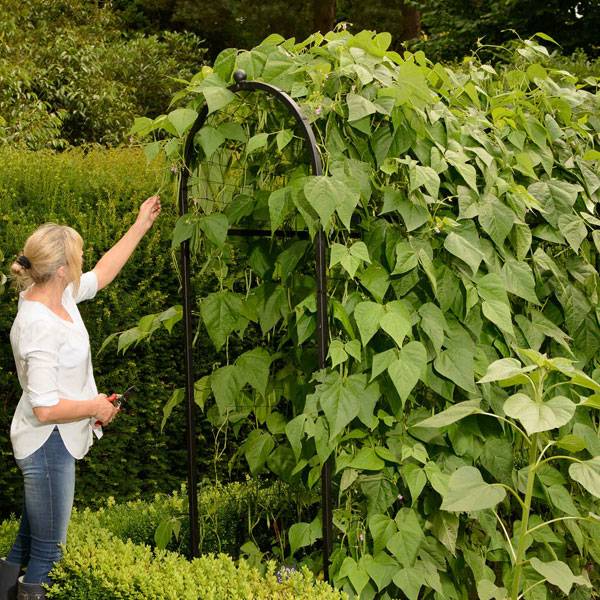 Harvesting
Beans are ready when the pods are less than full length, snap easily and while the seeds are still pale in colour. Typically, this is at about 15-20cm long. Ensure you pick the beans regularly to encourage further pod production.
Harvest the beans using a pair of scissors to avoid damaging the stem by pulling on the plant. They will store well in the fridge for a couple of days, but are always best eaten on the day of harvest. Larger gluts can be frozen for around 12 months. It's vital that you blanch them beforehand as this will prevent any major loss in texture, flavour and colour.
Tip: Try not to miss a picking as once the pods ripen the flowering mechanism switches off and you'll get no new beans.

Other uses for your surplus harvest of green beans
There's no need to throw your excess runner beans on the compost heap, there's an abundance of delicious ways your bumper harvest can be put to use:
Runner bean purée
Similar in taste to traditional mushy peas, this unique side dish works great as a substitute for heavy potato mash. Simply boil your runner beans in a pan of salted water until tender. Once cooked, tip them into a food processor and blend with a little butter until you reach the desired thickness.
Bean pesto
Pesto needn't just be reserved for the likes of basil and coriander; pesto can embrace all sorts of flavours, more specifically runner beans. Cook runner beans then whizz together with garlic, parmesan, pine nuts and lemon juice. Add salt and pepper to taste, and enough olive oil to get the consistency of pesto you prefer.
Ratatouille
This healthy recipe is a great way to use up a glut of runner beans. Plus, it tastes delicious too. Heat some oil in a pan and then add some chopped onion. Once translucent, add chopped runner beans, 1 tin of tomatoes, garlic, sugar and a mixture of your favourite herbs. Simmer for 30-40 minutes until the sauce thickens. Enjoy your ratatouille hot alongside some meat or fish, or serve it cold as a salad.
Spicy runner bean pickle
Sort of like a piccalilli but sweeter and milder, this pickle is exceptionally tasty with cheese, crackers and cold meats. Consisting of boiled beans, onions, vinegar, demerara sugar, turmeric, mustard powder and salt, it's as simple as it is delicious. The consistency will be runny when hot, but thickens as it cools.