November has been a crazy mixture of weather. One week temperatures are reaching double figures and if we have been luck enough the sun has come out, so fleece sweaters are taken off and t-shirts are visible. Then the following week, the temperature has returned to what it should be, so woolly hats, gloves and four layers are the required clothing of the day.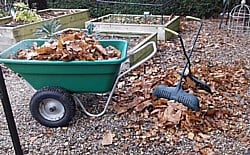 We have had numerous storms passing through, leaving a path of leaves and fallen branches everywhere. Because of the mild weather, bothersome insects are still present, white fly and gnats are the two I dislike the most. One is eating my cabbages and sprouts; the other is eating me!
The shallots I planted out are making the most of the weather and are steadily growing. I surrounded them with strulch and it seems to be keeping the pigeons at bay, so far. The garlic has got very confused. It should be dormant to the spring but it has started to sprout, much to my horror. I have planted them in wooden raised beds and as I was tidying up around it, I spotted little green leaves. Thinking it was a weed, I pushed the mulch aside and found it was the garlic sprouting. I checked all the other bulbs and they too have started to grow. I am now hoping for much cooler weather and hopefully this might stop it growing.
I have dug up the horseradish this week, this is normally dried and stored in the pantry but unfortunately this has also become a victim of the long, dry summer that we have had. There is very little of the plant that can be used for the kitchen but I shall pick out a few of the best roots and re-plant them in some fresh soil so they can remain dormant over the winter and hopefully have a better crop next year.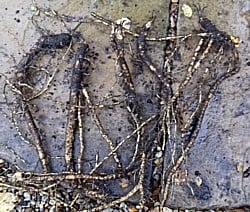 The greenhouse has had its annual winter coat hung up inside, bubble wrap and tape. I have also added a new thermostat for the fan so once the hard frosts do return, the plants and seedlings will be snug and warm. There is also a new geopod, smaller than the current one but this is going to be used to start off the seeds before they go to 'nursery', the larger geo pod.
I have got various plants and vegetables growing in the greenhouse. One variety of winter lettuce has taken off very well, so well I have planted several outside in a raised wooden bed, they are under cloches which has a mini greenhouse over the top, so double protection. I shall see how they grow. I have parsley seedlings flourishing in the geo pod and I have just planted a couple of sweet pea varieties and broad beans for next spring.
This month has me thinking of the various jobs that can be done now before the cold weather has arrived. When the days are wet, I can start cleaning and sharpening the garden tools for next year. The fruit cage roof net can now be removed, giving the birds the opportunity to go in and find any juicy insects that have taken refuse in there. They may be even luckier and find a few raspberries as the autumn variety are still fruiting.
Once I have decided where the runner beans are going to grow next year I can dig a runner bean trench and start to fill it with garden compost, such as vegetable and fruit peelings, cabbage leaves, plain paper and tea bags. Remembering to keep it moist and once there is enough in there cover it with soil, the hungry runner beans will really appreciate this. I have coverd the rhubarb with the well rotten leaf mulch; this will stop the roots from drying out from the winter winds, conserve moisture and help feed the plants for the next growing season.
Jobs for December:
Winter wash fruit trees and add glue bands
Continue to remove leaves and debris from paths and borders
Stock take seeds and feeds, make lists and place orders
Get ready for Christmas!