This week in the Kitchen Garden, it is time to plant our early potatoes. These have been chitting for a couple of months now and are ready to go into the ground. The raised beds they are destined for have been covered in fleece for the past few weeks to warm the soil prior to planting.
Good Friday is the traditional day for planting potatoes. This dates back to the days when Bank Holidays were the only holidays some working people were allowed. The long weekend gave them time to complete the job before returning to work after Easter.
I have always followed this tradition and, despite Easter being early, I shall be doing the same this year. Once the tubers have been planted and the rows labelled, I will be covering them with fleece again to help keep them snug in the ground.
This year I shall be growing Charlotte again as this is my favourite variety to eat. Our maincrops potatoes will be Cara and Desiree and these will be planted in mid to late April.
Planting the seed potatoes is one of my favourite jobs of the year. It's always a sign that summer is well and truly on the way.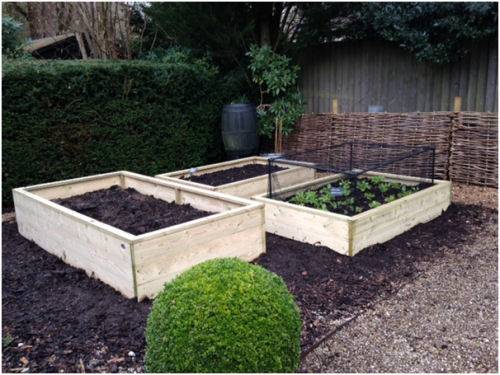 This year we are also hoping to brighten up the colour palette in the Kitchen Garden by adding some flowers grown for cutting. Last year our sweet peas put on such a stunning display that this year we have decided to add to them to provide more floral displays for the house.
We have already sown Zinnias in the greenhouse and this week will sow sunflowers, clary and acrolinium direct into the main raised beds to be grown alongside the vegetable crops. This is new for our Kitchen Garden and we are excited to see how it works.
Also this week, we are planning to start some direct seed sowing in the garden. We will be sowing beetroot, carrots, parsnips, peas, spinach, summer cabbage, salad leaves, leeks, Swiss chard, and kohl rabi into raised beds and directly into the soil.
In our staff garden at Harrod Horticultral HQ, the staff have been assembling a new raised bed to increase their growing space. They have also been busy sowing seeds in their greenhouse, including courgettes, celery and kale. Outside they have sown purple sprouting broccoli and spring onions.