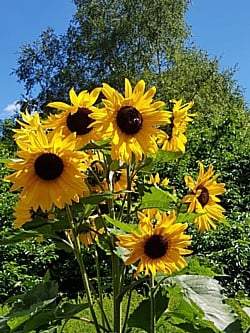 Like many gardeners at this time of year, I am taking a much-needed holiday which will mean a week away from the garden. August is the perfect time for a holiday but the worst time to leave the garden as it is such a busy part of the growing year; the greenhouse needs watering daily, plants in pots need watering at least every other day in sunny weather and crops need harvesting to keep them productive.
I am lucky enough to have willing volunteers who will look after the garden in my absence in return for being able to keep everything they can harvest whilst they are here. To make it easier for them I have spent a couple of days preparing the garden for my absence. Where possible, pots have been moved into shady spots and grouped together near water butts or hose points. I have also laid soaker hoses from taps to some larger areas. The greenhouse shades have been pulled down and the pots on the floor have been stood in trays that will catch the water and help keep the humidity high. On the staging, self-watering tray kits have a similar effect. Everything will be fed they day before I leave.
Last year, the casualty of my holiday were the squash plants. When I left they were lush and healthy and upon my return they were grey and crisp. They are planted in the ground and we had rainfall so they were not watered, but they do need a lot of water. They have been planted with sunken plant pots at their roots and I have left specific instructions this year that the pots are filled with water every couple of days. I have also left out the the Rinsekit Portable Watering System to make watering easier for those harder to reach baskets and tubs that are planted up away from the water butts and outside taps. It holds 7.5 litres of water and has a 6' long hose. It fills easily in less than 30 seconds from a standard hose connector or kitchen sink and self cleans each time it is filled with water.
Just before leaving for my holiday, I will be harvesting everything that is remotely near ripe and putting them in the freezer, or giving them to friends and family. Our sweet peas and sunflowers, that have been putting on an amazing display, will be picked to prevent them going to seed whilst I am away and left as a welcome gift for our watering volunteers.