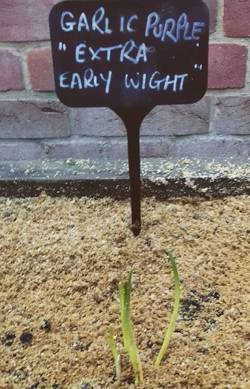 This week has seen some unseasonal warmth in the Kitchen Garden, but still not enough to dry out the lawns and paths during the day. With the trees constantly shedding their leaves, it is a wet and messy task keeping paths clear as damp leaves can be quite deadly under foot.
Also because of the recent warm spell one variety of garlic that was planted in a raised planter and should be dormant until the spring, has decided to show signs of early growth. We had covered the planter with a mulch to suppress the weeds but the other day we noticed one green shoot. On further inspection we found it was one of the garlic bulbs that had pushed the mulch back onto the other bulbs, they too had started to shoot. We will have to see what happens if we get a sudden cold snap, it might stop the garlic in its tracks.
Talking of cold snaps, it is time to replace the greenhouse heater to protect our precious seeds that will soon be sown, overwintering plants and our Christmas lettuces. We shall be installing a 2.8kW Stainless Steel Fan Heater which is more than capable of heating most garden greenhouses. The extremely quiet high powered fan gives even heat distribution throughout the greenhouse whether it is floor or ceiling mounted.
Today we have been planting strawberry plants, we know it's a bit late in the year but we have some plants left in the greenhouse that were looking a bit sorry for themselves and the unseasonal high temperatures prompted us to get them in situ.
We like to grow our strawberries in manger trough planters; so with some fresh new soil, organic compost and organic manure and a good mix the planters were ready for the new arrivals. We have 4 different varieties of strawberries and 12 of each type. In one large planter we planted Christine, an early strawberry and Hapil, which is mid early variety. In the two other planters we have Elegance and a new variety that we haven't tried before, Malwina. If we do get the forecasted cold snap we will be covering them with some fleece to give them some protection from any frosts.