Last week we finally saw some heavy rainfall in the Kitchen Garden and all around the garden, plants seem to have put on inches of growth overnight. This week we will be exchanging the watering cans for soft-tie and scissors to stake the plants that have had a growth spurt. Our broad beans are a good example. They have remained short and stunted for several weeks and are now back to the size we would expect them to be and flopping over. They will be tied in to their stakes ready to bear the weight of the pods that are already beginning to form.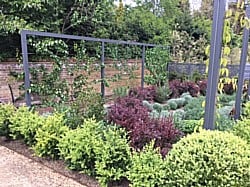 Last week we took the covers off our peach, nectarine and apricot trees. They are currently bearing some promising little fruits and we will be keeping a really close eye on them to keep those precious little fruits healthy.
Now that the soil is saturated, the dreaded slugs will be heading for the surface to do their worst. We will be applying nemaslug to all areas of the garden this week to stop them in their tracks. The nematodes are best applied whilst it is raining, or at least when the soil is wet so this is an ideal time to be doing it.
This week we will be planting out our outdoor tomato plants. The greenhouse is full and the plants are growing well and already fruiting. Our later sowing of tomatoes are now big enough to be transplanted outside. They will hopefully extend the fruiting season, bearing fruit when the greenhouse crop is nearly over. They will be planted in pots and placed in the shelter of a wall or hedge, in full sun. We always make sure to position them well away from the potatoes to prevent either crop spreading blight to the other; should we be unfortunate enough to suffer it.
And of course , we will be off to the Chelsea Flower Show – the most exciting event of the gardening year – Can't wait!