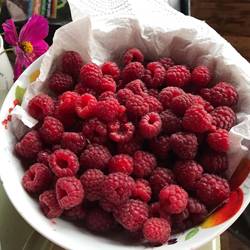 This week has been a short one as we have enjoyed the last bank holiday before, dare I say it, Christmas. But there has been no let up in the warm weather, if anything we suffered 4 days of constant hot dry conditions and 3 days of temperatures getting up to 30 degrees.

Of course, this has meant watering and more watering in the kitchen garden. The runner beans, squash, sweet potatoes and pumpkin plants which are either being harvested or still growing needed a good watering. The courgettes are producing less now so they still need watering but are not a priority.
The apples and pears growing up the roman pergolas are starting to show a fair crop but unfortunately it looks like the squirrels have turned their attentions to the ripening pears, now they have finished eating the beetroot! The harvest from the 'Autumn Bliss' raspberries has been amazing and fortunately these have been protected by the fruit cage.
In the greenhouse the tomatoes are still fruiting but the cucumbers have given up and have now gone to the compost bin. The peppers are producing are a good crop and the aubergines are now finally starting to fruit.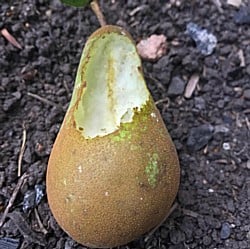 Elsewhere in the other gardens dead heading and weeding has continued. Some areas of the gardens have been getting particular attention as there is a photo shoot next week, featuring new products for next years catalogue.

I nearly caught the pear muncher red handed or pawed should I say, but unfortunately, I wasn't quick enough with the camera to get the photo. Squirrels are eating the peaches and nectarines too; food is scarce for them this summer so they are turning their attentions to different sources.
This is the last weekly blog for August and this weekend is the start of the meteorological autumn, leaves are slowly starting to fall from the trees, so it's a good time to check the leaf rakes and make sure we have enough garden tidy bags for the forth coming battle.