It has been a hive of activity in the garden this week as we've had a photo shoot for our new garden furniture range, it looks so very stylish in the late summer sunshine. We are all very proud to see the end product in situ and how beautiful it looks in the garden.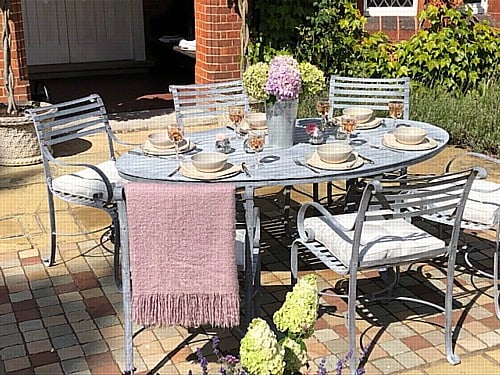 The weather has definitely cooled down now with a slight chill to the air and you can start to see the change in season in the kitchen garden. The courgettes have stopped producing and are to be dug up and the tomatoes although still producing are looking tired. The runner beans however are still bountiful and it is hard to keep up with the picking of them.
The late season vegetables are looking really good the parsnips are flourishing so is the celeriac, and the leeks are growing larger by the day. We have some small squashes ripening and pumpkins flowering and I think I can see the start of a pumpkin or two forming. The sweet potatoes vines are looking thick and full and have had some flowers so I am hopeful that there a good crop hiding under all that foliage but they still growing so will have to wait a few weeks before we can find out.
Our fruit trees have produced some nice fruit this year however, we haven't been the main benefactors although we do have some very portly looking squirrels around. Now it is the turn of the pears I keep finding un-ripe pears on the ground with a few little teeth marks in, clearly the squirrels have had a few bites of them and decided that they were not ready yet and discarded them. The trouble is they keep going back for more and now we have hardly any left on the tree so if anyone has any good tips for squirrel deterrents we would love to know!