Well, it has been another week of will it or wont it rain. We so badly need rain here; all we get is the occasional shower and that is it. Athough, last night we did have a rain shower. But it was only enough to wet the surface of the ground and not enough to fill the water butts. The water butts are either empty or nearly empty. Over the winter we will be installing more water butts and either linking them up to the old ones or finding new places to position them. This has meant watering as usual, but watering wisely.
The planters around the house and gardens have water storing gel and feed in them so they don't need watering every day unless we have a very hot day. The established trees and plants are getting a weekly soaking unless I see them starting to wilt and the only exception to daily watering is in the kitchen garden and the greenhouse. The squashes, courgettes, beans and potatoes need regular watering as they are thirsty growers. The sweetcorn and brassicas are now established so do not need daily watering unless again we have a very hot day.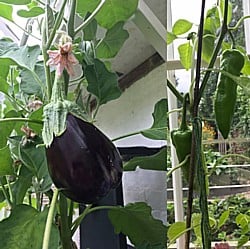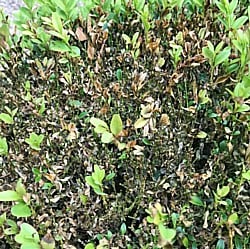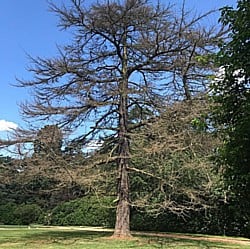 Harvesting has continued in the kitchen garden, the runner beans are now in full swing and growing profusely so they need picking every day. The courgettes are producing less now but other fruit and vegetables are ripening. The autumn raspberries are starting to fruit, there is a constant supply of tomatoes and cucumbers in the greenhouse and the aubergines and peppers are doing really well.
The box hedging in the kitchen garden has become infected with box blight, brown patches and leaves dying, so all of the hedging has been sprayed with fungus fighter. The box in the kitchen garden has suffered with blight before, the disease can remain in the plant for up to 6 years and with the right conditions the spores can become active again.
Elsewhere in the other gardens as the year marches on (yes, it is starting to feel autumnal) and the nights are starting to draw in, it is time to start cutting back the cat mint and lady's mantle. The wisteria on the roman garden pergola has had a gentle prune now the flowers have died, it will have a hard prune in the winter, as will the rhododendrons, as they have grown so large they have crept over paths and are invading the edges of the lawns.
We have a large and very old, (possibly 130 years old) cedar pine tree growing on the main lawn, well I say growing as unfortunately it has died, possibly succumbed to climate change, today the tree fellers should have started cutting it down but because of the high winds that have been predicted for today and the weekend this has been postponed for another week. When the tree does start to be felled we will share the photos with you.