We caught up with Grow Your Own's 'Best Gardening Influencer' of 2021, Ben Thornton to get some allotment advice for this month!
Firstly, here's a message from Ben...
I would like to take a moment of your time to introduce myself, tell you about a little about who I am and the journey I'm on…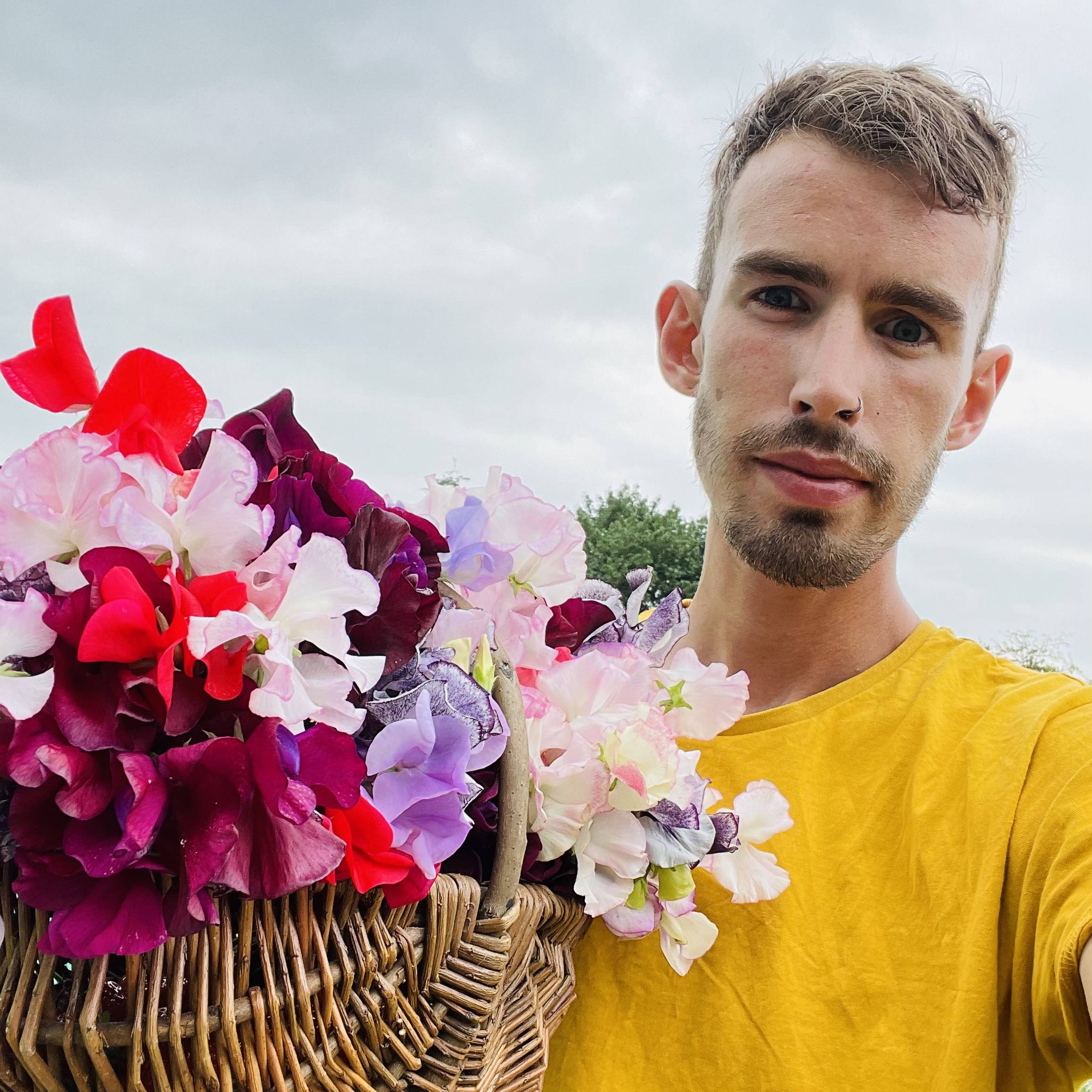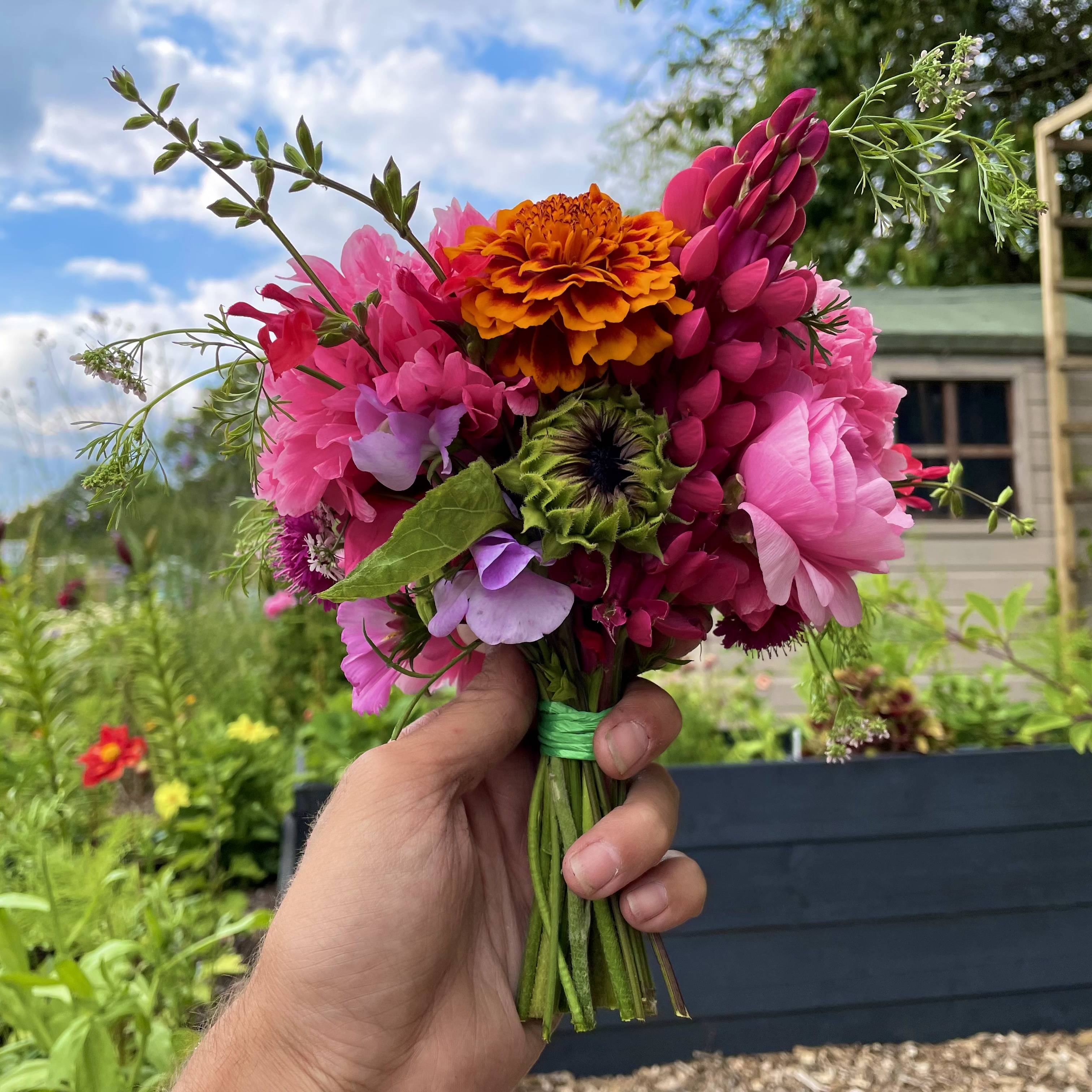 My name is Ben Thornton Aka The Young Grower I am based in the south west of the UK. In 2021 I won gold at The Great British Growing Awards sponsored by Harrod Horticultural. I have a passion for growing heritage and heirloom fruit & vegetables in my No-Dig Organic Garden. I use many methods of growing that works best for me but the basis is permaculture & replicating what would happen naturally.

The Young Grower brand was started back in 2018 in order to document my growing journey. Since then, I have been expanding my knowledge and building my reputation. My hard work and determination have led to me becoming a kitchen garden expert whilst inspiring and encouraging thousands to grow naturally, using organic methods and working with nature. My story of hard work and triumph over adversity has had a Facebook reach of over 2.86 million people since I first started gardening seriously.

Gardening has been my source of healing. Life has not been easy, when I was 14 years old I became seriously ill while I was on holiday in Spain, this lead to me becoming paralysed from my chest down to my toes from an illness that is so rare I was the first in the U.K. Fast forward 14 years and gardening has been a way for me to heal my body and mind, for example 10 years after I got ill my body was still very numb and not working. When I started growing and going on this journey my body has healed more than ever and I can now feel my whole body what feels like a miracle and growing has done that to me I am now turning my passion in to business with launching The Grow Calendar 2022 and many more products to help growers on the journey whether it be for health or a hobby. I'm hoping to bring you some inspiration and knowledge to get you through the growing season. For more information, videos & inspiration find me on social media for daily posts and updates from growing your own food and flowers, hatching & raising poultry, living with a disability and so much more.
You can find Ben on Instagram, Facebook and YouTube or visit Ben's website here.

Here is Ben's allotment advice for the month of May...
1. Don't be caught out by late frost
The days are getting warmer, but the evenings are still cold. Take extra precautions when planting
out early in the season. In addition, don't forget to protect your seedlings inside a greenhouse or
polytunnel as frost can still reach them. I have a mini greenhouse inside my polytunnel for those
extra-special crops that I started off early in my Vitopod propagator. You could also use cloche
tunnels or cloche domes when planting out those extra vulnerable plants.
2. Support plants as they begin to grow
As plants begin to grow they will need your help and supporting your plants is vital if you want a
sea of flowers. I've been caught out in the past when blooms get too heavy and snap or break in
the wind. This year I'm going to be prepared with these rusted plant supports that blend with the
allotment garden beautifully. Alternatively, you could use bamboo canes or broken branches;
anything that will help support them throughout the growing season.
3. Keep your seedlings well watered
It's that time of year when the days are getting considerably warmer and your seedlings will dry
out very quickly. I've already been caught out this year by this very warm Spring with temperatures
exceeding 40⁰C in my greenhouse. My little seedlings were very stressed and desperate for that
extra moisture. Now I'm using capillary matting as this helps in retaining that much needed
moisture to ensure successful propagation.
Another great way is to add some coconut coir to your compost before sowing or planting for
extra peat free organic water retention.
4. Carrot root fly
Beat the pest that is the carrot root fly by growing carrots between rows of onions to prevent
carrot fly or grow in a high raised bed like a VegTrug Planter. A height of 60-70cm is
recommended to stop the carrot root fly. Alternatively you could grow some in a polytunnel or
greenhouse in the self watering planter from Greenhouse Sensation. I love growing carrots in my
QuadGrow RootVeg system.
5. Sow radish for a quick crop
Radish is very simple to grow and requires little work or knowledge. It takes around 4 weeks from
sowing your seed in peat-free compost to harvesting fresh radish that is packed full of flavour in
every bite. Simply make a small drill with you hands, then sprinkle your seed thinly aiming for
around 2cm between each seed and cover with compost. Keep watered and soon you will be
harvesting fresh food from your garden.
6. Don't kill your plants from shock or frost
Harden off young plants before they spend their first night outside. The best way to harden off your
plants is by bringing them in and out of the greenhouse daily, then putting them back in of an
evening. After a week they should be ready to go outside permanently. For extra protection you can
use a cold frame that will help to achieve the same results. You could also provide them with extra
protection when planting by using a cloche. Don't be caught out by those very late frosts.
7. Sweet Peas
It may be a little late to sow sweet peas for good flowers this year, but you may be able to get
some at the garden centre. On that note, let me tell you how I grow my sweet peas each year
and how to maintain them throughout the year for an abundance of flowers. I recommend growing
them on an arch as this is one way to make a statement in your garden.
To get the most out of my sweet peas, I feed them weekly with natural grower liquid fertiliser,
regularly pick the flowers to encourage more to grow and always remove any seed heads. If you
leave them to go to seed this will make the plant think it's time to stop producing flowers. By
removing flowers regularly it will give you a continued harvest of fresh flowers that smell divine.
8. Heirloom Tomatoes
The time has come for me to plant my heirloom tomatoes in my polytunnel and greenhouse. I
use two methods when growing undercover: NoDig and Self Watering Planters.
I recommend you try the QuadGrow self watering planters. This system has been a game changer
and allows me to grow so much more. Last year I needed to top up the water reservoir on average
every 12 days.
Here is my list of top heirloom tomato varieties to grow:
- Amish Parts
- Orange Banana
- Pineapple Pig
- Black Beauty
- Costulluto
- Ozark Sunset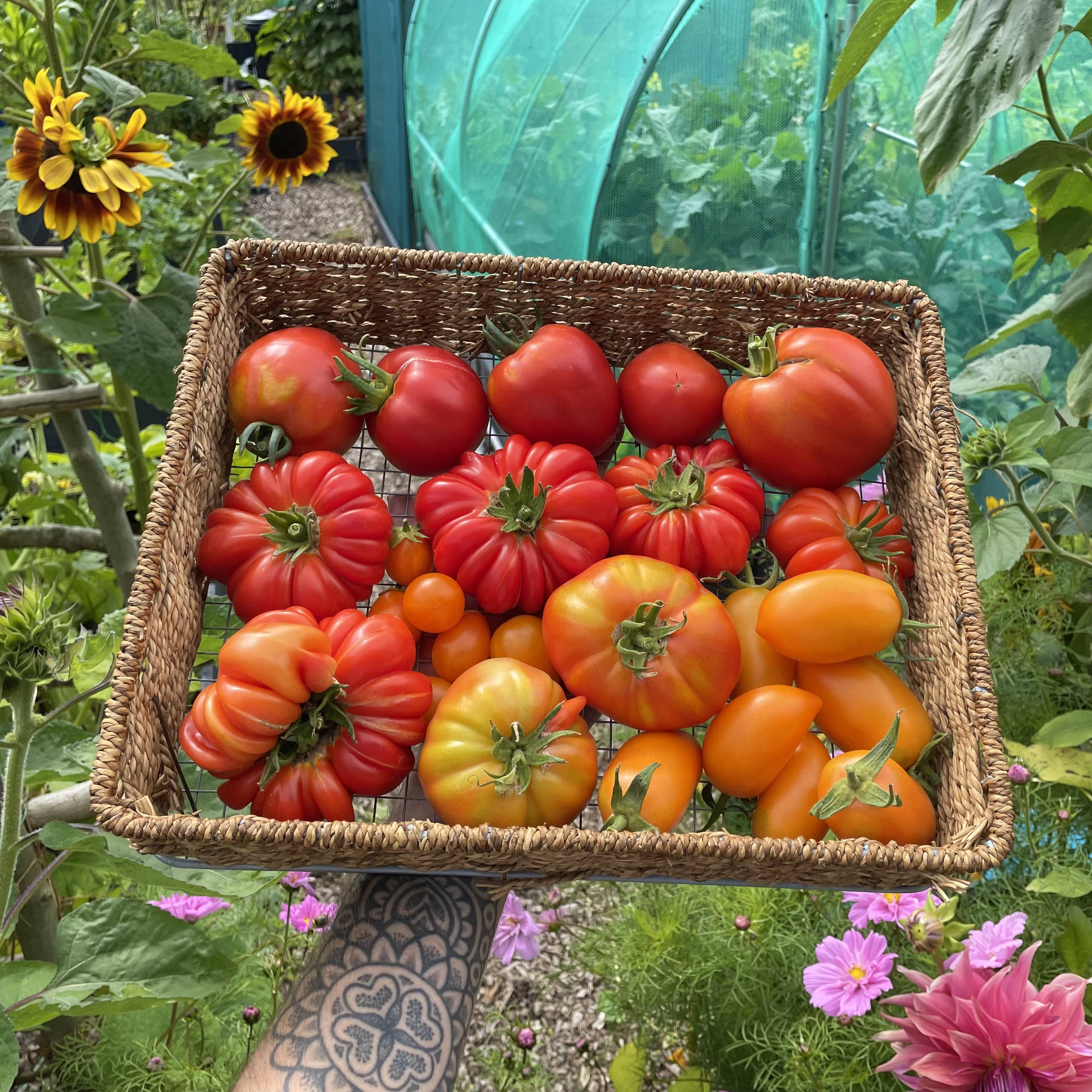 9. Black fly on broad beans
The best tip I have been taught to prevent black fly on broad beans is to pinch off the growing
point of the plant once the first beans appear at the base of the plant. Another way that I like to use
to get rid of black fly is to spray them with the hose pipe. I avoid using chemical sprays at all cost.
P.S. Don't let your broad bean tips go to waste… they are great in a stir fry!
This year I've sown a hardy variety called "Aquadulce". These are best planted in the Autumn for
an abundance of beans in Spring for little work. To learn more about my growing tips, check out
the videos on my YouTube Channel.
10. Starting Dahlias
To get a head start on growing dahlias you can pot them up in your polytunnel and greenhouse
and plant out once risk of frost has gone. This is also a great opportunity to take cuttings. I have
potted up my new dahlias in the greenhouse and once the frost has gone these will take pride of
place in the flower garden. I will be using my new rusted plant supports and stands from Harrod
Horticulture when I plant them out.
My current favourite type of dahlia to grow is the dinner plate varieties. They need plenty of
support throughout the season as their large blooms become very heavy. This year I am growing
over 20 new varieties of dahlias.

11. Dead heading spring flowers.
If you're anything like me you have a love for spring flowers. Particularly tulips and daffodils.
Having those flowers around while not much is growing gives me that push to get started.
However, as the season progresses they start to die back and you're left with stems and the odd
petal or two.
It's best to cut them back once they reach this stage; I'm using my flower and fruit snips for this
job. There are many ways you can do this job and many will recommend different methods.
First let me tell you about my method I have used for the last 3 years… All I do is run my finger
down the stem and when I feel the base I make a cut just on the stem. We want to leave the
foliage to allow the bulbs to absorb the nutrients in the leaves for a better bloom next season.
The other method is to just dead head the flower heads and leave the stems still attached to the
plant. I have used both methods and each time had the same results. The only difference was not
having a load of headless stems sticking up everywhere.
I also recommend giving your bulbs a feed with liquid fertiliser as they die back to give them some
extra nutrients to come back stronger in Spring 2023

Ben Thornton
Aka The Young Grower
You can find Ben on Instagram, Facebook and YouTube or visit ben's website here.