It has been a windy week in the kitchen garden but we have been lucky and no damage has been done. We have had some very spring feeling days too and this seems to be reflected in the plant growth; plants that should still be dormant have already started growing. This may stop next week with the much colder temperatures that are forecast for us to return, but it's worth keeping an eye on.
This week we have had to give the strawberry plants some attention as they were also showing signs of new growth, we wouldn't normally do this until march. But with this weather we have decided to remove all the dead leaves now and give them a layer of strulch. The strulch should give them a bit of protection from the cold weather that's on the way. We are watching the weather very closely and if the temperatures drop too low, we will add some winter fleece protection to protect the new early growth.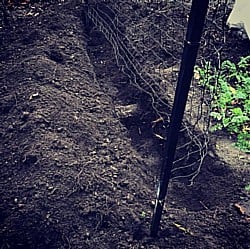 The runner bean trench has now been dug, we have had to dig this quite deep as we have lots of tree roots invading the ground and we want to make sure we get them all out. This also means we have a nice deep trench to fill with lovely manure and water retaining mediums. We have added in a layer of horticultural charcoal, this is great for water retention and should slowly release moisture into the soil during the dry periods throughout the summer.
Another job for this week was to prepare the bed for the carrots and onions. The bed was double dug it a few weeks ago and tree roots left on the top to let the frost kill them off. This week we raked the roots off the bed and given the soil a forking over and it is now ready to be planted. We don't manure the carrot and onion beds as they don't like it. However, the ground needs to be warmer and a good way of warming up the ground is to add cloches. We now have a line of cloche tunnels in place that will help do this so when the carrots are ready to be sown the ground will be nice and warm for them.
The only harvest this week has been the spinach which looks young and tender although not heavy yielding.
In the rest of the garden we have been pruning the wisteria and hydrangea again these are showing signs of life far earlier than we would normally expect and we even have a few rhododendrons in flower.
Our wild flower garden is also ahead this year and has already rotted down to stage that really needs clearing, so that is another job has also begun.