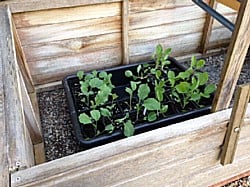 Here at Stephanie's Kitchen Garden this week we will be planting our potatoes. These have been chitting in trays for several weeks and have healthy shoots forming. The ground has already been prepared by digging in well rotted manure and some home made compost. A scattering of poultry manure will be added to the soil when the tubers are planted in neat rows. As we are still experiencing cold weather, we will be covering the crop with fleece to keep the soil warm.
This week we will also be potting our tomato plants in their final pots. Our tomato success kits and giant pots were cleaned over the winter months and are ready to house their new crops. Some of our tomato plants will be planted in halos in the greenhouse border where the soil has already been enriched with lashings of compost.
Our brussel sprouts and broccoli plants will be moved from the cold frame and planted in the vintage vegetable cage this week. Last year we added mycorrhizal fungi to the roots of our brassicas when we planted them and certainly noticed a big difference in the health and growth of the plants. We will definitely be using this again this year. After planting we will be adding cabbage collars to help protect against cabbage root fly.
This week we will be sowing sweetcorn, basil and parsley.