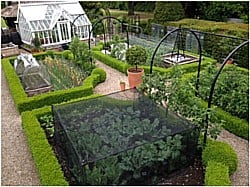 This week In Stephanie's Kitchen Garden we will be planting out our leeks. It's a little later than we would normally like to plant them, but they always follow our new potatoes into the ground and these are a little late being harvested due to the cold spring. The leeks are good size plants though, so should have plenty of time to get to a good size before the winter. Jo will use a garden line to make sure the leeks stand in neat rows. She will then use a dibber to make a hole for each leek before watering them in.
We will also be making time to give the greenhouse a spruce up. It is now packed with large tomato plants as well as peppers and aubergines, herbs and seedlings. The windows and floor will be given a clean this week to make sure it stays looking good, as well as cleaning away any lurking pests.
We are now at the time of year when pests and diseases can take hold so it's important to be vigilant and spot the early signs of attack in order to take action. Last week we noticed that our strawberries are being nibbled by mice. We have wrapped the raised bed in chicken wire and laid humane mouse traps laced with peanut butter to try and catch the culprits. This week we are hoping to solve the problem so that we can have the strawberries for ourselves. Luckily the plants in the strawberry tables in the fruit cage have been unaffected.
Our harvest gets bigger every week and we are now filling trugs with broad beans, rhubarb, peas, mange tout, tomatoes, cucumbers, broccoli, asparagus, salad leaves and strawberries.