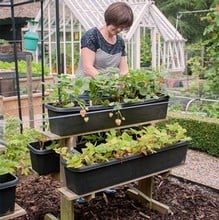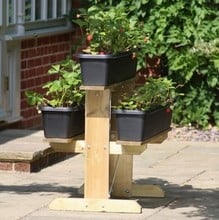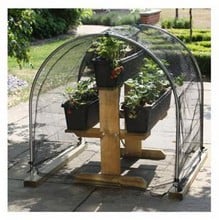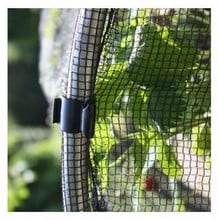 Strawberry Raised Growing Table
£4.95 P&P
The Strawberry Growing Table is the ideal garden planter if you've always wanted to grow your own strawberries but have limited garden space - it's an instant strawberry patch
Read More
Exclusive Designed &
Made by us in the UK
3 Working
day despatch
The Strawberry Growing Table is the ideal garden planter if you've always wanted to grow your own strawberries but have limited garden space - it's an instant strawberry patch!

Ideal for patios, balconies and courtyards and out of the reach of slugs, snails and other infamous growbag pests, the space saving strawberry growing frame is a great strawberry growing solution. Not only will fruit grown on the ingenious strawberry table be kept well ventilated (so less prone to rot) but the elevated 72cm high by 57cm wide and 1m long frame means easier access for you and less bending.
We've even thought of a way to protect your fruit from birds - the optional Hoop and Netting Kit simply sits over the strawberry growing frame and keeps those ripening berries safe! Easy to erect and dismantle, the galvanised hoop system (108cm L x 115cm W x 104cm H) complete with fitted anti-butterfly cover is designed to cover the wooden strawberry growing frame but can be used for any situation when butterflies and birds aren't welcome!

And when the season's over, the strawberry growbag growing frame is easily dismantled via wing nuts for easy storage - allowing you to simply lift the growbags/troughs and plants into a greenhouse for the winter. The strawberry raised growing table comes complete with assembly instructions, the troughs are not included
Strawberry Raised Growing Table measures 100cm L x 57cm W x 72cm H
Will accomodate 3 growbags or 3 growing troughs
Each shelf measures 1m L x 14.5cm W
Manufactured from Scandinavian softwood sourced from sustainably managed forests
High pressure treated using safe preserve for longevity
Elevates susceptible crops off the floor
Increase air flow and ventilation around plants
Stops ground dwelling pests such as slugs in their tracks
Ideal for patio, balcony and courtyard use
Optional Hoop and Netting Kit (108cm L x 115cm W x 104cm H) also available for complete crop protection
Kit comes with two hoops and supports and fitted 7mm mesh butterfly netting cover
This product is supplied as a kit for easy self assembly
3rd August 2015
Good product that makes strawberry planting easier for people with back issues. Relatively easy to assemble, although the carpenters need to take more care when drilling holes as I had to redrill holes in the side shelves to get them to fit correctly. It would have been useful to have had advice on how best to insert the net loops into their wooden bases as it is very difficult. On the plus side, the ordering and delivery service was excellent and communications both from Harrods and the courier were equally first class. I would order again from this company.
9th April 2015
Easy to assemble and keeps strawberries from the slugs. Ideal for me as have limited space and raising the plants off the floor ensures they get better light and will be easier to pick, as for watering more often would keep them moist anyway and have used a tray underneath each planter to retain the moisture for longer, if you want big strawberries they need sun feed and moisture.
28th March 2015
The kit arrived promptly and was easy to construct, even though I am are not a good handyman. I have 9 strawberries planted and they a doing well. The soft fruits we are growing are attacked by birds and squirrels and I hope this will solve that problem.